New analysis from The Washington Post brings light to a relatively under-covered part of the new Senate healthcare bill—one that would lock out what the paper says are potentially "hundreds of thousands of immigrants" from being able to purchase health insurance on the individual healthcare marketplace.

The Better Care Reconciliation Act dramatically changes the eligibility requirements for immigrants. Under the new proposed regulations, only permanent residents (green card holders) and refugees can buy insurance on the exchanges. All other immigrants—including students and workers on temporary visas, people in the middle of applying for asylum or refugee status, DACA recipients, undocumented immigrants, and even victims of torture—are ineligible.
More from the Post:
Many of the newly excluded people on temporary visas would face a dramatic reduction in insurance options. Temporary students and workers are often in roles, such as seasonal farm work, where pay is too low to afford insurance without assistance, according to Labor Department data. Given their ineligibility for Medicaid, the marketplaces were often their only option.
The article does note that some students could be eligible for insurance through their schools, while highly skilled workers on temporary visas would likely receive insurance through their jobs. Everyone else, though, is out of luck.
The conservative defense of these changes is worth unpacking. From the Post:
Conservatives defend the exclusion, saying it prevents medical tourism — where sick people move to the U.S. temporarily to get subsidized medical care but don't stay in the insurance pool while they're healthy. "For people to jump in, file a claim, and jump out, it's very destabilizing for the market," said Ed Haislmaier, a research fellow at the conservative Heritage Foundation.

G/O Media may get a commission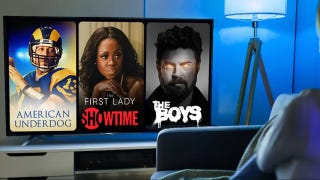 UNDER $1
99¢ Prime Video Channels
This argument ignores a basic fact about medical tourism: In the vast majority of cases, patients from a higher-income country will seek out treatment in a middle to lower-income country because the medical service is more affordable. Medical tourists are typically well-off, and can afford to pay out-of-pocket for the treatments they're seeking.
In fact, a 2015 Newsweek article asked if medical tourism would disrupt American hospitals—because Americans were seeking treatments elsewhere.
So what is the aim of the Senate changes? Almost certainly, the rate of insurance among immigrants will drop. And for an administration and a Republican Party that seems hell-bent on making life for immigrants as miserable as possible, that's enough.
The future of the Senate bill is still hazy, with John McCain saying the bill "is probably going to be dead" before returning to work this Monday, so, with any luck, these cruel provisions won't pass.