Not many people would call condoms part of the "fun" of sex. At best, they're a necessary inconvenience. At worst, they're boner killers—literally and figuratively.
And yet, not all condoms are created equal. The last five years have seen an explosion of condoms marketing themselves toward the conscientious, discerning, and politically savvy sexually active young person. Does that describe you? Then come, enter the wonderful world of high-design, vegan, feminist, cruelty-free, grass-fed* rubbers—and, for the first time ever, get excited about condoms.
(*Okay, maybe not grass-fed.)
Bringing sex appeal to social activism isn't as incongruous as you might think. Perhaps the most natural cause for a condom manufacturer to take on is global health. Sir Richard's, an all-natural and cruelty-free condom manufacturer with the slogan "Doing Good Never Felt Better," boasts a one-for-one social responsibility strategy: For every condom purchased, Sir Richard's donates a condom to an organization nominated by its customers. Founded in 2009, Sir Richard's could be called the spark that lit the powder keg, heralding a flood of socially-oriented condom manufacturers dedicated to the causes that consumers care about.
G/O Media may get a commission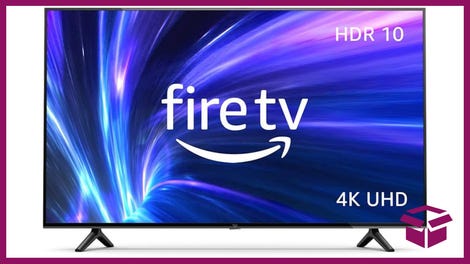 42% Off
Amazon Fire TV 50" 4K Smart TV
One group that has benefited from the upsurge in politically conscious condoms? Animal-lovers. (No, not that kind of animal lover.) Ask any vegan in your life: Animal products show up in nearly everything, not just food and leather, and it's hard to find vegan options for things you didn't even know were non-vegan. Surprisingly, most latex condoms are made with casein, a byproduct of dairy milk, which means those drugstore condoms are almost certainly not vegan.
But never fear: There are plenty of animal-free alternatives. Glyde Condoms swap out animal proteins for a proprietary plant extract, making them totally vegan-friendly. Sir Richard's is also vegan-certified. Indeed, vegan seems to be the new black in the condom industry—which make sense, considering the rising trend of veganism and plant-based lifestyles.
The father-daughter team behind Sustain Condoms is also vegan-certified and friendly to animals, but their primary goal is the empowerment of women. With 10% of profits going to nonprofits that promote reproductive health-care access and a company-wide commitment to gender equality and sustainable manufacturing, Sustain combines a woman-friendly marketing strategy with a commitment to ethical business practices…and really pretty packaging.
And when it comes to sex, a pretty package can make all the difference. After all, if you've been playing the long game, you've probably been fantasizing about the moment you and your boo finally bump uglies for the first time. The details must be perfect—from the mood lighting to your freshly laundered sheets, and an ugly condom wrapper is the last thing you want to introduce into the room.
Calling themselves the world's first "luxury" condom, Naked is the peak of both form and function in condom manufacturing. Not only do Naked condoms boast gorgeous minimalist packaging with a stunningly sexy satin look, but the Naked team spent years perfecting…their condom foil. That's right: the best of German engineering, and six layers of fumble-proof foil, applied to ensure that you never have to look stupid opening a condom again.
ONE Condoms have also built a brand on pretty packaging, though their silly, punny, and often crowdsourced designs signal "fun" over "luxury."
But at the end of the day, L. Condoms, a Y Combinator-backed startup, may be the most "millennial" condom manufacturer of them all. Founded with the mission of curbing the global AIDS epidemic and alleviating global poverty, L. Condoms tops off that tall order with a commitment to gender equality and creating opportunities for women.
They assist with condom distribution in high-risk areas; they teach sexual education in sub-Saharan Africa; and every L. Condom is, of course, vegan-certified and cruelty-free. And for the cherry on top, L. Condoms offers on-demand condom delivery for the on-demand generation.
That's right: Like Uber, but for condoms.
Haylin Belay is a NYC-based writer and sex educator exploring the intersection between identity, sexuality, and health.