Warner Bros. knows that Wonder Woman is the real reason people are lining up to see Batman v Superman and it plans on capitalizing on her buzz. The studio's already ramping up the promotion for her own solo movie out next summer.
Today, Entertainment Weekly published its latest interview with Wonder Woman director Patty Jenkins who opened up about her vision of Wonder Woman and the superhero's family of immortal warrior women. Along with the interview came an epic photo depicting Wonder Woman (Gal Gadot,) Queen Hippolyta (Connie Nielsen), General Antiope (Robin Wright), and Lieutenant Menalippe (Lisa Loven Kongsli) on the shores of Themyscira, their mystical island hidden away from the world of men.
"She is the only child they raised together," Jenkins said of the familial dynamic between Wonder Woman, her mother, and her two aunts. "And their love for her manifests in a different way for each of them."
The interview had their intended effect of amping up the already sizable hype about Wonder Woman and her movie, but the photo left some fans confused. "Where," they asked, "is Philippus?"
G/O Media may get a commission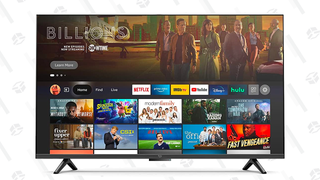 22% off
Amazon Fire TV - 50" Omni Series 4K - Early Access Deal
In the Wonder Woman comic books, Philippus is both one of Queen Hippolyta's most trusted advisers and the woman who trained Wonder Woman as a child. While all of the Amazons love Wonder Woman, it's Philippus who ultimately takes it upon herself to protect the young princess and teach her just what it means to be an Amazon.
Here in the real world outside of comic books, Philippus's significance stems from all of those same things. She's also one of DC's first recurring black female heroes.
Unlike Batman v Superman, Wonder Woman will be the hero's origin story, taking place in the distant past. Because so much of the film will focus on her early life and her family on Themyscira, Philippus seems like the sort of character who would definitely play a role in the film.
Currently, though, there's no indication that she'll make it to the big screen. No one's listed as playing her on Wonder Woman's IMDB page and, more importantly, she's missing from the Entertainment Weekly photo.
Wonder Woman is set to hit theaters next summer. We've gotten our first look at the cinematic world of Amazons that DC is building around Wonder Woman and as stunning as it is so far, it's missing something that's been a part of the comics for years now: diversity.