Texans are fed up with failed marijuana policies.
That's the message state lawmakers will hear from roughly 200 concerned citizens on Wednesday, during a lobbying day organized by Texans for Responsible Marijuana Policy.
While fledgling campaigns to legalize marijuana are sprouting up around the country, none is more ambitious than the one in Texas. Republicans control the state politically and it's a stronghold for conservative culture.
Still, marijuana law reform is possible. A 2014 poll found that nearly half of Texans would legalize the drug. Only 23 percent supported keeping it illegal in all cases.
The Marijuana Policy Project, a group working on the issue, is looking at the campaign in stages: first lessen criminal penalties around the drug, then pass a medical marijuana bill. Once those laws are established, try for full legalization.
"We're several years away from that and we're under no illusion that we're going to pass that right away," said Heather Fazio, Texas political director for the group.
G/O Media may get a commission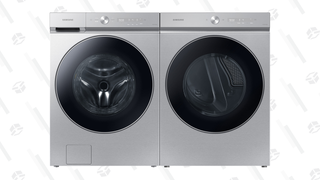 Get $500 back in credit
Last Chance: Samsung Bespoke AI Washer and Dryer Preorder
Passing any marijuana law will be a challenge in Texas, but here are five people who could make it happen:

1. Rep. Joe Moody (D-El Paso)
Moody opened up the conversation on marijuana law reform in December by introducing a bill that would decriminalize possession of up to an ounce of the drug.
The state representative said he realized while working as a prosecutor in El Paso that enforcing weed laws was a waste of resources.
"They were mostly young people coming into the courtroom, who had made a mistake and got caught," he told Fusion last month. "Do I want to focus my time and resources on that? Or do I want to prepare for this domestic violence case or this DWI case?"
But as a Democrat in Texas, he faces a tough fight. He'll need Republican allies to get it passed.
"I definitely have met with several members at this point, Republican members, to walk them through the ins and outs of this legislation," he said. "I feel very confident that we're going to have a conservative author on this joint bill in the near future."

2. Rep. Jonathan Stickland (R-Bedford)
Rep. Jonathan Stickland could be just the ally Moody needs.
The 31-year-old Republican is a Tea Party favorite: he's an ardent pro-lifer and pushes hard for gun rights.
He's also shown an openness to changing marijuana laws. "We are very close to doing something in this state on this issue," he told a crowd of marijuana advocates in April 2014. "The argument is liberty, not cannabis," he continued.
This kind of libertarian message could be the best way to get a bill passed in the state. But Stickland has yet to get formally onboard.
The representative did not respond to a request for comment.

3. Rep. Tan Parker (R-Flower Mound)
The argument for changing marijuana laws goes beyond "liberty" rhetoric — it's also about saving tax dollars.
Texas had the second-highest per capita arrest rate for marijuana possession in 2010, according to a report by the American Civil Liberties Union. If lawmakers eliminate that crime and reduce the penalty to a fine, they'll free up the resources that go into making the arrests.
That's where Rep. Tan Parker comes into the picture. The former chair of the Corrections Committee is on the record saying he's open to medical marijuana for some conditions; activists are hoping he'll support a decriminalization bill, too.
"He's said some encouraging things about medical and I would hope that would also extend to the civil penalties bill," said Jax Finkel, deputy director of NORML Texas.
Parker's office did not respond to a request for comment.

 4. Ann Lee, activist
If marijuana is eventually legalized in Texas, it will be people like Ann Lee who force lawmakers to act.
The 85-year-old Republican and devout Catholic has been a marijuana champion since the 1990s, after her son Richard suffered an accident that turned him into a paraplegic. He used cannabis to treat his condition and eventually became a well-known activist in California.
"Believe me, I had fallen hook, line, and sinker for the government propaganda around marijuana," she told Fusion. "I thought it was the weed of the devil."
Her son's accident changed her mind and now she's pressing for the state to adopt a new approach to the drug. She founded Republicans Against Marijuana Prohibition in 2012 and was among the group lobbying at the Texas Capitol on Wednesday.
"Her coming out and championing medical marijuana, that's a huge deal," said NORML's Finkel. "She kind of breaks the stereotype that most people envision in their minds."

 5. Gov. Greg Abbott (R)
Of course, any new marijuana laws will need to go through the governor's office. That could mean a rocky reception with Abbott at the helm.
While former Gov. Rick Perry spoke in favor of decriminalization, Abbott is taking a stand against it.
"Governor Abbott supports current drug laws and opposes the legalization of marijuana," a spokesperson from his office told Fusion in an email.
Although Abbott may not be a cheerleader for the issue, activists think he'll go along with legislation if it's endorsed by Republican lawmakers.
"To be honest, I'm not really sure exactly where he stands on it," Finkel said. "I would hope he would be open to education."
Andy is a graphics editor and cartoonist at Fusion.
Ted Hesson was formerly the immigration editor at Fusion, covering the issue from Washington, D.C. He also writes about drug laws and (occasionally) baseball. On the side: guitars, urban biking, and fiction.