To hear GOP frontrunner Donald Trump tell it, if we just built a "big, beautiful wall" on our southern border and generally kept more outsiders out of America, many of the country's economic problems would be alleviated.
It's true that the economy could be in better shape. But like many things Trump-related, his insistence that immigrants are dragging down the economy is not supported by fact, including evidence presented by the liberal Washington-based think tank the Brookings Institution.
The organization's Hamilton Project on the economy has put together a page showing how immigrants impact the U.S. economy. We have condensed their findings into nine charts below.

As of 2009, Mexicans accounted for less than a third of all U.S. immigrants.
G/O Media may get a commission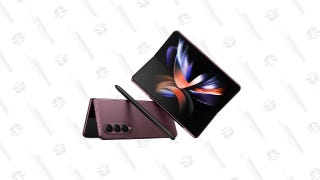 Save Up to $300
Galaxy Z Fold4
They are in fact nearly matched by Asians, according to this data. While Mexicans are overrepresented within the undocumented immigrant population, the net rate of Mexican immigration has now shrunk to zero.
2.  The rate of highly educated immigrants nearly matches or exceeds that of native-born Americans.
Foreign-born Americans have a higher rate of PhD's than native-born ones, and nearly match native-born Americans in Master's degrees.
3. Spending on immigration enforcement has increased at least 70% since 2005.
That, combined with the recession, is responsible for the ongoing slowdown in undocumented immigrant flows into the U.S.
4. Immigrants are not overrepresented in prisons.
Immigrants are institutionalized at substantially lower rates than U.S.-born citizens, the Project says.
5.  The children of immigrants can be found in most occupations at about the same rate as native-born Americans.
And they tend to be mostly better paying jobs. If you compare the purple (second-generation) and turquoise bars for the bottom-five occupations in the chart above, you can see that they are about even.
6.  And most of these children also instantly become English speakers.
This holds for every region their parents come from.
7. Immigrants start businesses at a higher rate than native-born Americans.
It's not even close.
8.  Immigrants also file patents at a higher rate native-born Americans.
By a factor of more than 2:1.
9.  And yet, we are endangering our own economy by issuing fewer visas for immigrants, especially high-skilled ones.
"Many of today's international students either plan to leave the United States or are uncertain about remaining, raising the potential for a reverse brain‐drain of the skilled workers who contribute to U.S. global competitiveness," the Hamilton Project says.
Do we really want this to be happening?
Rob covers business, economics and the environment for Fusion. He previously worked at Business Insider. He grew up in Chicago.