Some people believe in ghosts, that the spectral souls of dead loved ones walk among us, waiting to take care of some unfinished business or perhaps just checking in to say hi.
But online, the spirits of the dead don't lurk—they tweet. Twitter is full of zombie celebrities.
Take the film critic Roger Ebert, who died in 2013 but who still drops 140-character missives:
Ebert's Twitter bio doesn't explicitly mention his death, instead hinting at it: "Roger's archives and the carrying on of his traditions will continue." His ghostly tweets have disconcerted some of his followers.
G/O Media may get a commission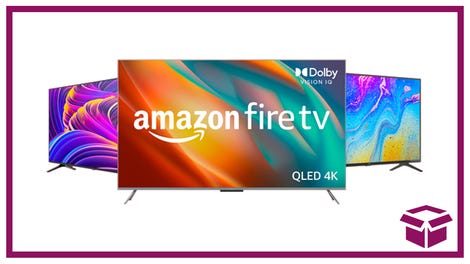 Ooh. stunning.
New Amazon Fire TVs
Ebert, a prolific tweeter when he lived, decreed before he died that his legacy would live on through Twitter. He gave his account password to his wife, Chaz, who said after his death that she planned to abide by his wishes and tweet for him. She mainly uses the account to retweet others, including herself, to Ebert's 800,000 followers, but occasionally authors a unique tweet, channeling Ebert's disembodied voice like a medium at a seance.
Twitter is full of the tweeting dead. Accounts like that of actor Paul Walker—another enthusiastic tweeter who died in a car accident in 2013—are run by the estates of the dead, keeping their social media presence in tact even into the afterlife, the little blue "verified" checkmark next to their name still suggesting that yes, it is really them.
Walker's account says openly that it is run by The Paul Walker Foundation and the tweets are always signed with #TeamPW. On occasion, though, tweets that are intended as a memorial to Walker's life and work instead feel like a ghastly embodiment of the actor himself. In short, it's kind of creepy.
Since his death in 2009, Michael Jackson still regularly tweets to his 1.94 million followers, mostly promoting his own memory and work, as does Amy Winehouse (she died in 2011) and Donna Summer (2012). Joan Rivers, who died in 2014, still tweets, too, though they mainly consist of Throwback Thursday posts signed by her daughter, Melissa.
Unlike Facebook, Twitter doesn't have a "memoriam" version of its profiles for deceased users. Twitter allows a deceased person's estate to deactivate an account, but it doesn't require that an account go dark once someone has died, nor does it remove that little blue, "verified" check mark. Some estates use a dead person's Twitter account as a memorial; others see it as a marketing opportunity.
Some members of Dead Twitter died long before the social network came into being. The "official Twitter account of the World's Favorite Genius," Albert Einstein, is operated by a branding group called Corbis Entertainment which specializes in licensing rights to famous dead people. With 45,000 followers, Einstein's 'verified' account tweets about things related to Einstein and things in which he presumably would have been interested.
The Twitter bio for Marilyn Monroe notes that it's "Marilyn Tweeting on behalf of The Estate of Marilyn Monroe." Her account evokes the sense that it's channelling the long-dead star from another dimension. Her ghostly Twitter account is a kind of marketing, with a link in the bio to an online store where you can buy posters, dishes, calendars, books, movies, and clothes featuring the buxom star who died of an overdose in 1962.
Twitter's underworld has become its own Twitter subculture; just as there is Black Twitter and Teen Twitter, there is Dead Twitter. At one point there was even a website, Tweeji, devoted to tracking Twitter's dead and famous, though it has, regrettably, died, with no new updates since 2012.
A few years back, it was a form of popular social media performance art to start an account in the name of a dead writer and tweet in their likeness. Among my favorites was an account masquerading as the French philosopher Jacques Derrida, who died in 2004. In tweetstorm form, his impersonator poked fun at his famously abstruse writing.
Ghost Twitter is a funny thing. It is as if continuing to like and retweet a celebrity's tweets long after their death is the ultimate form of fandom. It is an extension of why fans and celebrities are drawn to Twitter in the first place—it allows us to feel as if we share an intimate relationship, even if that relationship is really just with the person's PR handler.
Just a few months after Roger Ebert's death, his wife tweeted on his behalf a cryptic line that one can only imagine Ebert would have intended as an explanation of his tweets after death:
And alive on Twitter, for however long the social network lasts.
This is part of our week-long series on the future of death.