SAN FRANCISCO—Bathed in the glow of a pink light, Maria Palacios rolled her wheelchair to stage right and announced to a crowd of nearly 200 people, "I'll never forget the first time I masturbated."
Palacios, 50, discovered self-pleasure at 6 years old, and recalled her mother saying she'd go to hell after catching her under the sheets at 10. So, the next time Palacios went for it, she stared at a picture of Jesus on the nightstand next to her bed.
Today, on this October evening, a sign-language translator wearing all-black accompanied Palacios on stage. Sections of the audience were marked off for the blind and visually impaired, the deaf and hard of hearing, and the fragrance-sensitive. In the front row, a line of people sat in wheelchairs.
"I reject the idea that my crip body isn't worthy of pleasure," Palacios proclaimed. "Sexuality was the thing I could control. It was a rebellion against an able-bodied world."
G/O Media may get a commission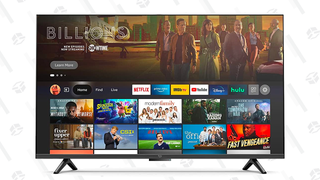 22% off
Amazon Fire TV - 50" Omni Series 4K - Early Access Deal
The crowd laughed, then roared with approval. Palacios' performance was the comedic highlight of "Birthing, Dying, Becoming Crip Wisdom," a show held nightly from Oct. 14 to 16 by Sins Invalid, a San Francisco-based community organization that advocates for disability justice among artists of color, as well as queer and gender nonconforming artists. It also brought one of the show's many moments of pathos. Yes, Palacios' act was mostly humorous, but it focused on a repeated theme throughout the evening: Physical disability isn't—and doesn't have to be—restrictive.
"The embodied experience of disability can suck, and it can be awesome," Sins Invalid co-founder Patty Berne, 49, told me. "That's just what it means to be in a body."
<iframe src='https://embed.littlstar.com/videos/de130cd3' width='640px' height='360px' class='lsplayer-frame' frameborder='0' allowfullscreen></iframe>
When Berne organized the first Sins Invalid show in 2006, she figured it'd be a one-off. But the show sold out, and Berne decided to make it a regular event over the next 10 years.
It's difficult to describe exactly what Sins Invalid is. For instance, "Birthing, Dying, Becoming Crip Wisdom" featured spoken-word poetry, choreographed dance numbers, singing, and film. But there are also more ethereal, movement-based performances (e.g. gliding across the stage, but not using traditional dance techniques) that resist easy categorization. Sins Invalid's individual performances draw attention to disability rights, but the show as a whole seeks to do more than just that.
"It generates more awareness, but the primary motor behind the project is to create a vision of what can be—not so much a commentary on what is," Berne said.
The disability rights conversation has historically revolved around white, male, and heterosexual voices, even though much of the world doesn't relate to these identities. Sins Invalid's goal, then, is to challenge the status quo.
"Because we're not just queer. We're queer and brown, or queer and brown and disabled," Berne explained. "That's what our intention is—to shift people's paradigm."
These days, Sins Invalid spreads its message on a variety of platforms: Community members produce films, organize conferences, write books, and host workshops. And, of course, they perform.

💃🏾💃🏾💃🏾
Nomy Lamm's long, flowing red dress covered half the stage. She sung in a low, breathy register, as two dancers crawled under the fabric, contorting their bodies.
As an activist and person with disability, Sins Invalid resonated immediately with Lamm, 41, in a way nothing else had before. New to San Francisco in 2007, she came across a show within months of her move. "I saw the show and was like, 'Holy shit! This is where I need to be,'" she told me.
Lamm was born with a short leg that required her foot to be amputated at age 3, so she and her family left their commune in Tennessee for the liberal stronghold of Olympia, WA. They ditched their vision of an off-the-grid-existence to ensure Lamm could get access to quality healthcare in a big city.
Growing up, Lamm became interested in the arts. She snagged roles in local theater productions, did gymnastics, and danced with a prosthetic leg. Lamm also got involved in politics, immersing herself in Olympia's third-wave feminist scene during the 1990s. She protested against sit-lie laws, played in punk bands, and came to terms with her own privilege as a white person in America, becoming aware of the intersections of injustice.
As a performer with Sins Invalid, Lamm is able to combine all of her passions. To date, she's been involved with the organization for nine years.
Lamm's activist work with the organization focuses on issues like the disproportionate killing of people with disabilities at the hands of police. One study, published by disability-justice nonprofit Ruderman Family Foundation, estimates that a third to half of all victims of police killings have some sort of disability.
Although "Birthing, Dying, Becoming Crip Wisdom" dives into these heavier political themes, the show also serves as a quiet kind of activism: celebrating life lived outside the oppressive eye of an ableist world.
"I felt like people really needed the messaging of the show—they needed to feel like our bodies are from God, divine," Lamm said. "I think that can feel really hard when you're in pain or never got to feel like a part of things."
Correction: A previous version of this article incorrectly stated that Nomy Lamm was required to have her leg amputated. Lamm's foot was amputated.
Michael Rosen is a reporter for Fusion based out of Oakland.