STONE MOUNTAIN, Ga.—A small group of Confederate supporters toting assault rifles and battle flags scaled a mountain with a long southern history on Saturday to denounce a proposed monument to Martin Luther King Jr.
They oppose building a memorial to King on the top of Stone Mountain, a peak outside of Atlanta that is the largest Confederate monument in the country. Known as the Confederate Mount Rushmore, it has portraits of general Stonewall Jackson and other rebel icons etched into the mountain's face.
On a bright, sunny day Saturday, about 40 demonstrators here waved confederate flags at the mountain's peak, in a town that is 75% African-American and in a spot where Ku Klux Klan members once burned crosses.
The Southern Poverty Law Center, a nonprofit that tracks hate groups, said in the weeks leading up to yesterday's rally that it was being sponsored and advertised by the KKK. But the protesters swore they had no association with the Klan.
"It doesn't have to do with race at all," insisted Michele Dariano, who drove up from Florida for the event, as she clutched a Confederate battle flag in each hand. "This is not a hate flag. If you're going to hate on something, learn about it first."
G/O Media may get a commission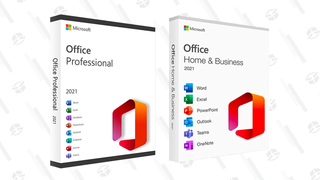 89% off
Microsoft Office Professional 2021 Lifetime License
Wearing shirts declaring "White Lives Matter" and "Confederate Pride," they marched through the sprawling state park that surrounds the mountain, escorted by a contingent of police officers.
One woman, pushing a child in a stroller, said she wanted to honor her great-great-grandfather, who fought for the Confederacy. "Martin Luther has a place in history, but it sure isn't here," she said, asking not to be named.
The proposed monument to Dr. King, a small bell that would sit on the crest of the mountain, would reference his "I Have a Dream" speech, in which he declared, "let freedom ring from Stone Mountain of Georgia."
But the freedom bell idea hasn't only seen opposition from Confederacy fans—civil rights groups like the Southern Christian Leadership Conference, which King founded, have also opposed it, suggesting instead that the Confederate carvings be sandblasted off the face of the mountain.
Essentially, neither group wants to be associated with the other. For now, the proposed monument is on hold, and officials are instead planning to install a display elsewhere in the park honoring African-American soldiers who fought in the confederacy, said John Bankhead, a spokesperson with the Stone Mountain Memorial Association, which operates the park.
Some of the protesters who marched on Saturday, members of a militia group called the III%, came dressed in full combat fatigues and carried large assault rifles—no problem under state gun laws.
"We're exercising our Second Amendment rights so they can exercise their first amendment rights," 22-year-old Jessie Hill said of his fellow protesters. He wore combat boots, had binoculars strung around his neck, carried one rifle, and slung a second rifle over his shoulder.
If anyone had tried to start a fight, Hill said, he and the other gun-toting militiamen would "protect" the protesters. There were no incidents.
The only counter-protester was an Atlanta man who held a handwritten sign with a direct quotation from Mississippi's declaration of secession from 1961: "Our position is thoroughly identified with the institution of slavery—the greatest material interest of the world."
"They should remember what the Confederate history really was," said the counter-protester, Steve, who declined to give his last name.
As the group hiked their way up the steep mountain, they attracted stares from passersby. A group of Cub Scouts ogled the big guns. One man tripped on his own Confederate flag.
At the mountaintop, for most of the park's attendees—who come more for its hiking trails than its Confederate history—it was a normal day in the great outdoors. Kids flew kites, and couples admired the expansive view of the Atlanta skyline in the distance. Some tourists stopped and gaped at the flags. "I think it's a disgrace," said Margie Williams, who flew down from New Jersey to visit her family. "We came out to have a nice day, and this kind of puts a damper on things."
"I mean, it's 2015," she added.
Previous Confederate flag rallies on Stone Mountain this year have attracted several hundred people, and each demonstration has been getting smaller and smaller, Bankhead said. It was a far cry from "back in the '80s and '90s, when there were Klan rallies [at Stone Mountain] just about every weekend during the summers," he said.
Rumors about the Klan association might have also reduced turnout Saturday. Jack Bridwell, the Georgia leader of the Sons of Confederate Veterans group, told me over the phone that his organization had pulled out of the rally after hearing that Klansmen might be coming.
"We don't want to have anything to do with that," he said.
Casey Tolan is a National News Reporter for Fusion based in New York City.