Four members of the Minneapolis Police Department walked away from their off-duty job working security at a Minnesota Lynx WNBA game on Saturday—all because the team openly mourned the deaths of Philando Castile and Alton Sterling along with the five Dallas law enforcement officers who were killed last week.
According to the Star Tribune, the unnamed officers had been working a security assignment at Minneapolis' Target Center stadium, but quit after Lynx players discussed racial profiling at a pre-game press conference and donned warm-up jerseys with the words "Change Starts With Us - Justice and Accountability" across the front. On the backs were the names of the two black men whose deaths last week sparked renewed calls for increased police accountability. The jerseys also featured the logo of the Dallas police department, as well as the  words "Black Lives Matter."
G/O Media may get a commission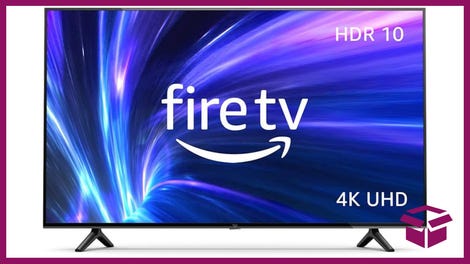 42% Off
Amazon Fire TV 50" 4K Smart TV
Speaking to press before the game, team co-captain Maya Moore explained:

"If we take this time to see that this is a human issue and speak out together, we can greatly decrease fear and create change. Tonight we will be wearing shirts to honor and mourn the losses of precious American citizens and to plead for change in all of us."
Despite the team's call for unity, the off-duty officers instead opted for a more divisive path, going so far as to reportedly request an exemption from any future off-duty assignments with the Lynx.
Petty as their decision may seem, the four officers have been backed by local police union leader Lt. Bob Kroll, who explained, "They can start or stop a job whenever they want. They are working on an independent contract."
But Kroll, who serves as president of the Minneapolis Police Federation, not only supported the officers on the basis of the technical status of their freelance work, but on the merit of their protests. "I commend them for it," he told the Star Tribune.
Kroll is no stranger to bombastic proclamations in the wake of racially tinged incidents. This spring, he denounced the Black Lives Matter movement as "a terrorist organization" following a prolonged stand-off between protestors and Minneapolis police over the death of Jamar Clark, a black man killed by law enforcement officers during an arrest in late 2015.
The Lynx were not alone in their commemoration of the lives lost in recent days. New York Liberty players donned similar warm-up gear, bearing the words "#Blacklivesmatter" and "#Dallas5" at their game against the San Antonio Stars on Sunday night.
"I think it's a shame that we keep seeing people that want to make this movement as something that's violent," Liberty forward Swin Cash told reporters during a pre-game press conference. "Five cops gave their lives up trying to protect a peaceful movement. And in this country, I do believe that you can assemble peacefully and protest against injustice. So until the system transforms, we cannot sit here and act like there is not a problem here in America."
Players in the NBA have also been vocal regarding the Black Lives Matter movement, and ongoing instances of police violence against black people. In late 2014, members of the Brooklyn Nets as well as the Cleveland Cavaliers' LeBron James wore shirts with the words "I Can't Breathe" printed across them. Those words were spoken by the late Eric Garner as he was being choked to death by NYPD officers. They have since gone on to become one of the most common refrains heard during Black Lives Matter protests.
Meanwhile, it does not appear the Minnesota Lynx and their off-duty police security will reconcile anytime soon. Speaking with the Star Tribune, Lt. Kroll said simply: "If [the players] are going to keep their stance, all officers may refuse to work there."
Update: On Tuesday afternoon, Minneapolis police chief Janeé Hartneau issued a statement gently criticizing the off-duty officers for their conduct. "Walking off the job and defaulting on the contractual obligation to provide a service to the Lynx does not conform to the expectations held by the public for the uniform these officers wear," Hartneau said.
Her full statement is below: