Nearly a dozen canines wagged their tails in support of marriage equality in front of the Supreme Court on Tuesday.
As the justices heard arguments in the case that could ultimately give gay couples nationwide the right to marry, Princess Ginger Sparkles, 5, stood stoically in the face of small, but vocal opposition.
Princess Ginger Sparkles. (Geneva Sands/Fusion)
"This is so important," said her owner, Gail Jones.
Lola, 8, and Nero, 7, dressed in only their finest attire for the outing.
"We have marriage equality in Florida, but that could easily change," said owner Joe Kowalcheck, who traveled from Ormond Beach with Albino Pereria to show their support.
G/O Media may get a commission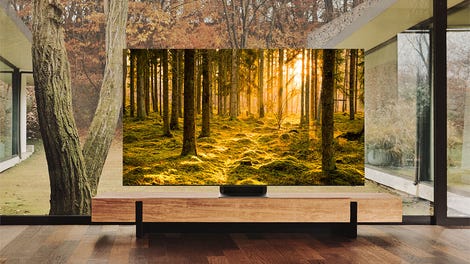 Up to 40% off
Samsung Smart TVs
Lola and Nero. (Geneva Sands/Fusion)
Gus, 9, and Beauregard, 4, took a more understated approach.
The pair, who call Washington, D.C. home, walked over with owner Michael Pollock to take in the action.
Gus and Beauregard. (Geneva Sands/Fusion)
Giorgi and Sophia, both 8, had to put in a bit more effort.
Sophia and Giorgi. (Geneva Sands/Fusion)
"We came from Boston just for this," owner Marcos German-Domingues said proudly.
Doug the dachshund left the turmoil in Baltimore behind for the short trek to the Supreme Court.
"It's so cool to come here and be a part of it," said owner Andrew, who didn't want to give his last name. "It's like the catharsis of everything."
Doug. (Geneva Sands/Fusion)
Jason Bourne, 18 months, might be a puppy, but his support for marriage equality is fully developed.
Owner David Reyes of Washington, D.C. served in the military under "Don't Ask, Don't Tell" and hopes that, like that policy, same-sex marriage bans will become a thing of the past.
Jason Bourne. (Geneva Sands/Fusion)
Casey could only make a short stop outside the court because her owner, who declined to give her name, was supposed to be at work, but the golden retriever took the time to accessorize with a festive flag.
Casey. (Geneva Sands/Fusion)
Sisters Meta and Cumbia, both 7, came out to be a part of the fight for justice.
"I think if you want to tell people what you want," said owner Marco Rakower, "you should participate in the battle. You can't say 'we want' from your apartment."
Meta and Cumbia. (Geneva Sands/Fusion)
"People need to know," Rakower, who is from Colombia but lives in Washington, D.C. with his husband, continued, "I'm your cousin, I'm your son, I'm your father."
Emily DeRuy is a Washington, D.C.-based associate editor, covering education, reproductive rights, and inequality. A San Francisco native, she enjoys Giants baseball and misses Philz terribly.
Geneva Sands is a Washington, D.C.-based producer/editor focused on national affairs and politics. Egg creams, Raleigh and pie are three of her favorite things.