Loose-fitting men's cargo pants, a men's button-up shirt over a women's form-fitting V-neck T-shirt and unisex sneakers. That's how fashion model Rain Dove describes her everyday carefree style. And in Jimmy's Diner in Williamsburg, Brooklyn one afternoon, the fashion model is wearing exactly that.
But a button-up shirt, she tells me, serves a greater purpose. Dove, 25, says that whenever she visits a public restroom, she falls in whichever line is the shortest. When it happens to be the men's line, she joins right in. When it's the women's line, she just removes the button-up shirt.
Dove's dark brown, almost black, hair is cut short in a pompadour kind of style – shaved sides, long on top – which most would consider a predominantly men's hairstyle. Her pale skin stands in contrast to her dark brown eyes and eyebrows. At 6-foot-2, she could easily pass as a teenage boy.
"I like the way women's clothing hugs your body," says Dove. "And I love my curves, but I feel a lot more comfortable walking around with a male persona in this world," she explains, picking around the croutons in her kale salad.
G/O Media may get a commission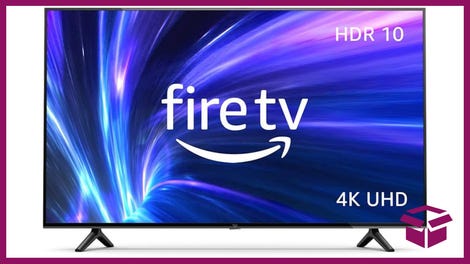 42% Off
Amazon Fire TV 50" 4K Smart TV
Though Dove prefers not to label – and therefore limit – her gender identity, she belongs to what has become known in recent years as genderqueer. According to GLAAD, genderqueer is "a term used by some people who experience their gender identity and/or gender expression as falling outside the categories of man and woman. They may define their gender as falling somewhere in between man and woman, or they may define it as wholly different from these terms."
This is the case with Dove. "I have female anatomical values, but I am a person who identifies as someone who is fluid gender," she says. Genderfluid, a term that falls under the umbrella of genderqueer, is when an individual's gender identity is expressed as either male or female – or even a mix of the two – and can change.
Gender identity, as GLAAD defines it, is "one's internal, deeply held sense of one's gender." This is not to be confused with gender expression, the "external manifestations of gender, expressed through one's name, pronouns, clothing, haircut, behavior, voice, or body characteristics." Therefore, where an individual's gender expression is visible to others, their gender identity is not.
While other genderqueer individuals may prefer the neutral plural pronoun "they," Dove is comfortable with being referred to as "she" or "he." (I refer to Dove using female pronouns because my preliminary research on her didn't let me run on first impression.) "I will only correct them if they're being a dick," she says, laughing.
With increasing public acceptance of other gender identities, like those who identify as transgender—from Laverne Cox to Andreja Pejić and most recently, Caitlyn Jenner—those who identify as genderqueer say their moment appears to be finally coming. And perhaps no other industry is putting genderqueer into focus as much as the fashion business, with models such as Dove becoming increasingly common on the runways of fashion capitals and the pages of glossy magazines.
"Fashion reflects the culture that it's part of, it's one of its most important jobs," says Wayne Sterling, a fashion industry trend spotter who is co-founder of Models.com and mentor to Dove.  "I'm not going to be naïve and say we've woken up in a wonderful new era of tolerance and understanding. But there are 12-, 13-, 14-, 15-year-olds who are processing the experience and saying, 'I have nothing to be ashamed of. The issue is not with me, the issue is with society and its limitations.'"
"The genderless phenomenon has been building up its reach for quite a while now," says Angelo Flaccavento, a fashion critic and contributor to The Business of Fashion, in an email. "Think of the cult-like growth of a brand like Rick Owens, which has been at the forefront of the phenomenon, or the rise of Jonathan Anderson. Both these designers generated followers, admirers and copycats."
"Their number is sufficiently big to make 2015 the year of the genderless," he adds.
Genderqueer models can play an important role in this cultural shift, says Jo B. Paoletti, associate professor in American Studies at the University of Maryland, where she specializes in fashion and gender. "Civil rights are won when they have a human face. For the general public to see that sex is non-binary, and that sexuality and gender occupy a continuum (and may shift over a person's lifetime), they need to understand it on a personal, not theoretical level."
Dove grew up a single child in a middle-class family in what she describes as a very conservative community in Newark, Vermont. "It was a puritanical flavored culture created by old world Christian values and doing things the 'right way,'" she explains. Her father is a high school teacher and her mother is a naturopathic doctor and holistic healer. Dove says she didn't quite understand the possibility of her being male until she was 19.
She recalls a story which she says may have been the first time she realized that she didn't quite fit into society's idea of binary genders. "When I was in third grade I got lice," she says. "My mom shaved my hair. And I had big farm girl muscles and I was a foot taller than everyone. My mom put a red dress on me and sent me to a new school. At the time, people called me Danielle, not Rain because my parents were like, if she has a weird hippy name she's going to get picked on even more. So everybody called me 'Tranny Danny' at my new school. But I didn't know what a tranny was.
"Everyone in school, eighth graders, sixth graders, third graders, called me 'Tranny Danny.' I thought it was somebody who was into trains. So I made my mom get me a conductor cap, and I would wear this conductor cap around, and whenever somebody called me 'Tranny Danny,' I was like, 'choo choo!' And I went into high school with extremely high self-esteem. I thought I was popular. People would laugh. They were always smiling around me. What I didn't realize is that they were laughing at me."
That's something that still sticks with Dove today. "I'm considered to be a very ugly woman in New York City," she says of starting her career. She mimics how one agency casting director rejected her outright, saying, "There's no way you'll do women's stuff."
Dove says that Major Model was the only agency in New York willing to sign her as a male and female model. Other agencies rejected her, telling her that she was not a commercially attractive woman. "That's really hard to hear because anatomically that's the gender you're born as," she admits.
But this hasn't stopped the model from pursuing her career. "It's not really important for me to fall within the binary gender spectrum," says Dove, who during the winter New York Fashion Week walked as a woman for Berenik and Vivienne Hu, a man for Sir New York, and androgynous at Dom Streater. "If I like to wear it, I'll wear it. And I'll wear it as myself. And if you put a gender label on that, that's your perception."
Other genderqueer models I spoke to say they've experienced similar lack of acceptance and hardship. Estonia-born model Merike Palmiste, 28, a lesbian, was assigned female at birth, identifies as a woman, and says her gender expression falls outside the categories of man and woman. Until about two years ago, she was living in Russia where under President Vladimir Putin, LGBT people living in the country face harsh punishment for "gay propaganda." After strangers physically attacked Palmiste in public on numerous occasions, she says she moved to the United States to seek asylum.
Palmiste used to have long blonde hair when she lived in Russia, but cut it short about two years ago. She also wore feminine clothing to hide her identity. "It was torture for me," she says, referring to a time in her life when she felt forced to wear skirts and dresses.
Now Palmiste describes her personal style as very "rock star" with a hip-hop influence. She only wears men's clothes – including men's underwear – from brands like Hudson, Levi's and Timberland, and they fit her body perfectly, she says, requiring no alterations.  "Beauty doesn't have a gender," says Palmiste. If you're confident with who you are, you're attractive." Despite her preference for menswear, Palmiste says some agencies in New York have denied representing her because at 6-foot-3, she is considered too tall for womenswear.
David Chiang, 26, is lean with a small frame standing 6-foot-2. His long black hair is often tied back in his signature ponytail. Though he also doesn't like labels, he is gay, was designated male at birth and identifies as a man, but like the other models, his gender expression falls outside the categories of man and woman. At a model casting I attend with him, a casting director asks Chiang somewhat teasingly, "Have you ever modeled as a girl before?" as if he knows what Chiang's answer will be. Chiang awkwardly and shyly responds to the casting director and indicates a "yes."
Chiang, who worked with Alexander McQueen for his final menswear collection, embraces women's clothing because he says they fit his body better than most men's. His favorite fashion retailers, where he looks at both the men and women's sections, include the likes of Gap – especially for jeans – H&M, and Zara. He isn't going to be seen wearing dresses, though, Chiang says.
Chiang says that he experiences discrimination often, including being labeled as too feminine. (Karl Lagerfeld once reportedly described Chiang backstage at a Dior show as a "really beautiful Chinese girl.")
Another genderqueer model, Elliott Sailors, 33, caused a media storm in 2013 when she cut off her long blonde locks. "It literally never crossed my mind that it would be something worthy of the media," says Sailors. Today her hair is still short and, according to her, "boyish." It's often neatly slicked back or parted to the side.
When it comes to her personal style, Sailors usually heads to the men's section first. She cites Rick Owens as one of her favorite brands because of the designer's affinity for unisex design. "Things that are considered traditionally feminine are not going to be my daily go-to items," she says.
During Fashion Week last February, Sailors walked in the Etxeberria womenswear and menswear collection show, wore menswear for Nina Athanasiou and womenswear for Mark & Estel. Sailors is bisexual, was designated female at birth and identifies as a woman. But because her gender expression doesn't fall within the categories of man and woman – and especially because she is married to a man – Sailors says she is often accused of wanting to make use of straight privilege. "It's shocking to me every time," she says. "Even when people recognize me as female, they're like, 'What, he can't see that she's a lesbian?' or 'He must be gay if he's into a woman like that.'"
On a winter afternoon at the Artist Studio NYC on Fifth Avenue, I watch as Dove's breasts are taped down to flatten her chest. She is wearing a blank tank top and black and white boxer briefs stuffed with a sock in front. Amid all the stylists and photographers dashing around, fiddling with details, Dove stands on a large turning table with a blonde female model – about a head shorter than Dove – next to her. This is the set of a video campaign, to be shot by photographer and director Thorsten Roth, for Play Out, a brand of gender-neutral underwear started by Abby Sugar and Sylvie Lardeux.
Dove and the blonde model stare longingly into each other's eyes as the large turning table slowly revolves and a video camera films them. Eventually the two kiss.  "You told me I was going to be making out with a boy," Dove teasingly yells at those on set.
Afterwards, Dove and I sit on the kitchen floor of the busy studio. "When I came on set today, the idea was to really create an environment in which people use their imaginations and they make a determination for themselves," she says. "'Is it a man? Is it a woman? Is it a lesbian? Is it a gay man? Is it someone who's transgender?'"
"I just model as all aspects of the human condition," says Dove. "I model as every side of myself, every possibility."
Bernd is a recent graduate of Columbia Journalism School. He ​writes for Mic.com's style ​vertical​ and regularly contributes to GQ South Africa.​