In the wake of the Paris attacks, some United States governors are refusing to cooperate with President Barack Obama's response to the ongoing international refugee crisis.
Michigan Governor Rick Snyder said that his state will not accept any more Syrian refugees, The New York Times reports. "Michigan is a welcoming state and we are proud of our rich history of immigration," Gov. Snyder said in a statement. "But our first priority is protecting the safety of our residents."
Some Syrian refugees have already settled in the state, the Times notes.
The Detroit Free Press calls the announcement a "step backward" for the governor, who said that settling Syrian refugees was "part of being a good Michigander" back in September.
Governor Robert J. Bentley of Alabama made a similar announcement over the weekend, The Associated Press reports.
"After full consideration of this weekend's attacks of terror on innocent citizens in Paris, I will oppose any attempt to relocate Syrian refugees to Alabama through the U.S. Refugee Admissions Program," Gov. Bentley said in a statement. "As your Governor, I will not stand complicit to a policy that places the citizens of Alabama in harm's way."
G/O Media may get a commission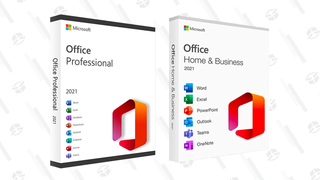 89% off
Microsoft Office Professional 2021 Lifetime License
Zero Syrian refugees have been settled in Alabama at present, according to The AP.
White House Deputy National Security Advisor Ben Rhodes confirmed Sunday that the U.S. still plans to accept approximately 10,000 Syrian refugees over the next year. One of the men who participated in the coordinated attacks in Paris Friday night—which left 129 people dead and hundreds wounded—allegedly entered France with Syrian refugees holding an emergency passport.
UPDATE, 11:15 a.m. ET: Texas Governor Greg Abbott announced that his state will not accept any Syrian refugees either, ABC News reports.
"A Syrian 'refugee' appears to have been part of the Paris terrorist attack," Gov. Abbott wrote in an open letter to Pres. Obama. "I urge you, as president, to halt your plans to allow Syrians to be resettled anywhere in the United States. Neither you nor any federal official can guarantee that Syrian refugees will not be part of any terroristic activity. As such, opening our door to them irresponsibly exposes our fellow Americans to unacceptable peril."
UPDATE, 12:16 p.m. ET: Indiana Governor Mike Pence has suspended the resettlement of additional Syrian refugees in his state.
UPDATE, 4:03 p.m. ET: ABC News reports that the governors of Indiana, Illinois, Massachusetts, Florida, Ohio, North Carolina, Arizona, Mississippi, and Maine have joined the aforementioned governors in announcing their opposition to Syrian resettlement in the U.S.
President and CEO of the U.S. Committee for Refugees and Immigration Lavinia Limon told ABC News that the governors cannot legally block refugees from settling in their states.
Connecticut Governor Daniel P. Malloy and Pennsylvania Governor Tom Wolf have publicly confirmed their continued support for Syrian resettlement in their states. Others, like the governors of Louisiana and Iowa, have voiced doubts about the refugee vetting process.
Bad at filling out bios seeks same.