Pine View School is a public school in Osprey, Florida, just south of Sarasota. Once upon a time it had a student news show called Pine View Primetime.
Listen, this is the good stuff. The primo kids messing around making videos stuff. I don't mean that in a "LOL this is soooooo late 80s/early 90s check it out!!!" way. The series is rich with cinematic gems for you to bathe in, like the voyeuristic Scrooge McDuck that you are.
Just look at Trevor turn into the Incredible Hulk.
You can watch the episode documenting the middle school dance, or the Hug of the Week for November 3, 1989 (a recurring feature).
G/O Media may get a commission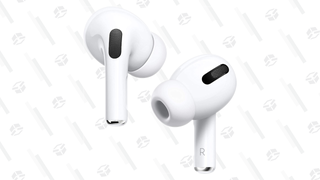 28% Off
Apple AirPods Pro Wireless Earbuds
There's also a brief but stunning news item on the school's golf team.
And another where some leery third graders are filmed for "Bear Day."
Andy Zare, Pine View alum and the producer and sometimes-anchor of Pine View Primetime, digitized 55 episodes and put them up on Vimeo over the past couple of years. The first episode "aired" on February 5, 1988, but most of the videos are from the 1989-90 school year. That, in my opinion as a professional high school video production critic, is when the show really came into its own.
The real achievement, for example, is the September 1, 1989 back to school edition, hosted by Jennifer Bowden and Lisa Crowder. It's got everything. Tetherball.
This guy on a golf cart.
Andy Zare interviewing the first kid off the bus, whom, asked how he feels, answers, "Good."
Also, great disaffected hosts:

Jennifer: Getting up at six in the morning does not agree with me

Lisa: No, but who does it agree with?

Jennifer: Not very many people I guess, but we haven't heard of any deaths, so I guess everybody survived.
This episode also features an important lesson for today. Lisa and Jennifer sign off by reminding us that it's Labor Day weekend, so we should remember not to come into school on Monday. So remember, everyone reading this: don't go to school on Monday.
As my new hero Jennifer puts it, "Go ahead, sleep late, we don't care."
Ethan Chiel is a reporter for Fusion, writing mostly about the internet and technology. You can (and should) email him at ethan.chiel@fusion.net