One of the many institutions that has been rocked by the candidacy of Donald Trump is the American newspaper editorial board. Over the past month, we've seen stalwart conservative papers in places like Texas, Arizona, and New Hampshire decline to support the Republican nominee for the first time in generations. And this week we got another batch of unlikely news organizations jumping on the #NeverTrump bandwagon. Unfortunately, their supposed principled stances might just help Donald Trump get elected.
On Thursday, the Detroit Free Press, for the first time in it's 143-year history declined to endorse the Republican nominee for president. Instead, they endorsed Libertarian candidate Gary Johnson, a man who just made headlines for his inability to immediately name any foreign leader he admires.
The paper wrote that despite Johnson's "long shot" odds to win the presidency, they felt compelled to endorse him on the grounds that "Donald Trump is unprincipled, unstable and quite possibly dangerous. He can not be president."
But if the Detroit Free Press's editorial board wants to keep Trump out of the White House, endorsing Johnson is hardly a means to that end. An analysis by the website FiveThirtyEight.com found that Johnson's presence in the race tends to shrink Hillary Clinton's margin against Trump. In a state like Michigan, where the Trump is spending a lot of time trying to shrink Clinton's lead, an endorsement for Johnson from one of the state's largest newspapers only helps his cause.
A similar act of cowardice took place Friday morning at the Chicago Tribune, where the paper's in relatively less conservative editorial board also endorsed Johnson for president. Unlike the Detroit Free Press, the Tribune has a less stalwart tradition of supporting Republican candidates. Despite the editorial board's fiscally conservative bent, the paper endorsed home-town hero Barack Obama in both 2008 and 2012.
G/O Media may get a commission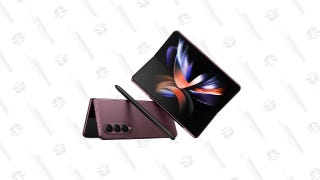 Save Up to $300
Galaxy Z Fold4
The Tribune's editorial board announced back in March that they would not be able to endorse Donald Trump in the general election, but hedged on whether they would choose Hillary Clinton for president. In their editorial this morning, the board wrote that Trump "couldn't do this job. She could." In the end, though, the paper's editorial board decided that, because of Benghazi and Clinton's fiscal policy, they could not bring themselves to endorse her, opting instead for a "principled candidate" in Johnson. Never mind that, in 2012, the Tribune had no problem endorsing Obama despite Benghazi hanging over the elections and fiscal policies that closely resemble Clinton's. That year, the editorial board also ignored that year's principled libertarian nominee—a man by the name of Gary Johnson.
And then there is USA Today, a paper known for it's banal optimism, simplistic style and anti-partisanship. Early Friday morning, the paper, which has the highest circulation of any U.S. daily, announced that it would be breaking with its long tradition of not endorsing any candidates and endorse—wait for it—anyone but Trump.
The McDonalds of American newspapers wrote that while their editorial board felt that Trump was "unfit" for the presidency, they could not come to a consensus on Clinton. "Where does that leave us?" the board asked in their non-endorsement. "Our bottom-line advice for voters is this: Stay true to your convictions. That might mean a vote for Clinton, the most plausible alternative to keep Trump out of the White House. Or it might mean a third-party candidate. Or a write-in."
Trump responded to the editorial in typical Trump fashion, lashing out at the national paper while also reminding his followers that two other major conservative editorial boards had also declined to endorse him.
When it comes to anti-Trump endorsements from conservative and non-partisan editorial boards, however, not everyone is shying away from his opponent. Earlier this week The Arizona Republic endorsed Clinton, the first time the paper has endorsed a Democrat since its founding more than a hundred years ago. Just three weeks prior, The Dallas Morning News took a similarly unprecedented step in supporting Clinton, while others like New Hampshire's Union Leader have also chosen to endorse Johnson.
One unlikely conservative bucking the trend is Wall Street Journal editorial board member and cartoon plutocrat Dorothy Rabinowitz. For those of you unfamiliar with Rabinowitz, she operates as the Journal's vanguard against the ever encroaching threat of bolshevism in New York City. In 2013 Rabinowitz famously derided New York's Citi Bike program, a private for-profit bike-sharing service sponsored by one of the nation's largest banks, as grand scheme dreamed up by the "totalitarian" and "autocratic" New York City government along with the help of evil bicycle lobby to render New Yorker's "helpless" and turn the city into socialist Europe.
Despite her prominent role as the Joseph McCarthy of New York's cyclist community, Rabinowitz has decided to break with her fellow conservatives on the Journal's editorial board and offer Clinton a full endorsement. On Monday, she wrote, "Her election alone is what stands between the American nation and the reign of the most unstable, proudly uninformed, psychologically unfit president ever to enter the White House." But don't tell the Free Press, Tribune, or USA Today.