The Supreme Court is about to hear oral arguments in the most significant abortion case in decades, and the entire country is watching.
The law that's at the center of the case, Whole Woman's Health v. Hellerstedt, is Texas House Bill 2, which was passed in the state's legislature in 2013 and signed into law by then-Gov. Rick Perry. It's seen a series of challenges in court from health providers, including Planned Parenthood and Whole Woman's Health, who say it's a TRAP (Targeted Regulation of Abortion Providers) law, designed to specifically force the shut-down of abortion clinics.
There are several parts to the law, including extensive measures ostensibly aimed at patient safety, like requiring doctors who perform abortions to have admitting privileges at a hospital with OB-GYN services less than 30 miles from their clinic, to providing 24-hour phone assistance for patients, and for clinics to be equipped to operate as ambulatory surgical centers. These regulations are included in the law in spite of opposition from medical professionals and studies affirming that abortion is already a relatively safe procedure. If the Supreme Court rejects this latest challenge to the law, it could mean the closure of several more clinics in Texas, where 30 abortion providers have already closed over the last five years. It would also set a precedent for other states to impose further restrictions on their abortion providers.
While briefs filed in support of the Texas law come from, almost uniformly, anti-abortion organizations and states that have attempted to impose similar restrictions, the briefs filed in support of Whole Woman's Health—and against the sweeping abortion restrictions—are staggering in their breadth. From business groups to faith leaders, veterans to theologians, meet the people and organizations who think HB2 is profoundly unjust—or just a profoundly bad idea: for women across the board, for the legal and medical professions, for businesses, and for American history.
Theologians and ethicists (including Elisabeth Schússler Fiorenza, a Professor at Harvard Divinity School, and Rev. Dr. Pamela R. Lightsey, of the Boston University School of Theology).
G/O Media may get a commission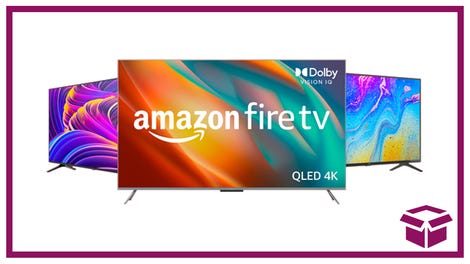 Ooh. stunning.
New Amazon Fire TVs
Amici [theologians and ethicists] understand the fraught moral debate that surrounds abortion, and some recognize—and subscribe to—the view that abortion is a grave sin, regardless of circumstances. Yet, amici endorse and submit this brief in support of Petitioner Whole Woman's Health because the passage of the two provisions of Texas House Bill 2 at issue in this case ("HB2") is manifestly unjust and immoral under theological tenets. Amici believe this to be true regardless of one's belief as to whether abortion is morally permissible, and even regardless of one's belief as to whether abortion should be legal.
Republicans (including Sarah Davis, a member of the Texas House of Representatives and Kathy Hawken, a member of the North Dakota House of Representatives, along with members of the Republican Majority for Choice).
In keeping with our country's heritage of freedom, this Court has long found that certain personal decisions central to individual dignity and autonomy, although not specifically carved out as exempt from government interference in the Constitution, are nevertheless protected by the concept of liberty embodied in the Constitution. It is from this jurisprudence that the right to choose to terminate a pregnancy—among the most personal and significant decisions a woman can make in her lifetime—arose. […]

To allow laws [like HB2] to stand that plainly serve no interest but to deny or unduly burden the right to choose to terminate a pregnancy would fundamentally erode the wellestablished and crucial right at issue, and would be antithetical to the principles on which this nation and the Republican Party were founded.
Major medical associations (including the Society of Hospital Medicine and the Society  of OB-GYN Hospitalists, with a hefty list of medical guidelines behind them). 
Admitting privileges [as required under HB2] are appropriate for physicians who regularly admit patients. But requiring physicians who specialize in outpatient procedures with low incidence of post-procedure complications, whether that specialty is podiatry or gynecology, to maintain privileges serves no medical purpose, is inconsistent with modern medicine, and is unnecessary to ensure continuity of care. […]

The Texas legislature purported to justify its admitting privileges requirements as a means of protecting patient health and safety. But the admitting privileges requirement of H.B. 2 has no reasonable medical basis.
Neither requirement [in HB2] is supported by accepted medical practice or scientific evidence. There is no medically sound reason to assume that abortions performed in a hospital or ASC setting are safer than those performed in a clinic or office, and requiring abortion clinics to meet the standards for ASCs has no medical purpose given the nature and simplicity of abortion procedures.

The admitting privileges requirement likewise does nothing to improve the health and safety 5 of women. In fact, it is inconsistent with prevailing medical practice, which provides for continuity of care regardless of whether the clinician has local admitting privileges. Moreover, there is incontrovertible evidence that imposing these unjustified burdens on abortion providers is impeding women's access to quality, evidence-based medicine: H.B. 2 has delayed, and in some cases blocked, women's access to legal abortion. Both outcomes jeopardize women's health.
Historians (including Nancy F. Cott, Professor of American History at Harvard and Hendrik Hartog, the director of Princeton's Program in American Studies, among others).
The Texas law follows a long line of prior state laws instituted ostensibly to protect the health, safety, and/ or interests of women. Such sex-based laws claiming to protect women have ancient roots in the common law doctrine of coverture, which subsumed a wife's legal persona under that of her husband, ostensibly for her protection and benefit. Subsequently, state legislatures passed sex-specific regulations said to protect women's health and safety, ranging from exemptions from jury service to restrictions on women's conditions of waged work.

This Court has acknowledged that such past woman specific laws were "rationalized by an attitude of 'romantic paternalism' which, in practical effect, put women, not on a pedestal, but in a cage."
Members of the military and veterans (The Service Women's Action Network along with several retired army veterans, including three retired Major Generals).


If Texas House Bill 2, 83d Legis., 2d Spec. Sess. (Tex. 2013) ("HB2") is permitted to stand, it would affect the rights of all women in Texas—but it would have specific consequences for the rights and health of service women. […]

In order to leave her military base—and to be away from the base for a sufficient amount of time to travel to such a provider and obtain such care— a service woman must obtain leave, or be on an approved pass. The process of requesting leave or a pass can be cumbersome. It requires a superior's approval or signature and there is no guarantee that such leave will be granted, either at all or for the necessary amount of time.
Women who have had abortions (including Rhonda Brownstein, the Legal Director for the Southern Poverty Law Center, Natasha Lycia Ora Bannan, the President of the National Lawyers' Guild, and more than 100 others). 
"To the world, I am an attorney who had an abortion, and, to myself, I am an attorney because I had an abortion." Email received from an Amicus, an appellate court attorney, December 18, 2015.

In reaffirming a woman's right to safe and legal abortion access in Casey, this Court observed that "[t]he ability of women to participate equally in the economic and social life of the Nation has been facilitated by their ability to control their reproductive lives." 505 U.S. at 856. The statutory provisions at issue in this case would dramatically restrict women's ability to exercise their right to safe and legal abortions—and thus their ability to participate equally in the life of the nation—not only in Texas, but in any other state that has or will adopt similar laws.
LGBTQ rights groups (the LAMBDA Legal Defense and Education Fund).
When government intrudes on a fundamental right as central to individual autonomy and dignity as marriage, sexual intimacy, contraception, or abortion, government infringes on the burdened individual's ability to participate equally in society. […]

The legislative justifications for state laws regulating abortion also warrant close scrutiny for the additional reason that women who exercise their constitutional right to have an abortion experience stigma and discrimination, which, in turn, creates a structural obstacle to their ability to advocate in the political arena against measures that unduly burden their decision to end a pregnancy.
Business leaders (60 leaders and educators, including Dallas oil tycoon Lee Fikes and Marianne Bertrand, a Professor of Economics at the University of Chicago).
Businesses and the national economy benefit when working women have meaningful access to reproductive healthcare, so they can choose whether and when to have children and can best manage their work and life responsibilities. As one experienced business leader aptly explained: "We can't return to a time when working women have to second- guess whether they can fulfill their responsibilities—to their jobs or to their families—because of an unplanned pregnancy. Women who support their families need safe, reliable access to reproductive health services."3 H.B. 2 represents a step backwards both for women who seek to pursue a career during their childbearing years and for the millions of companies and businesses that rely upon them.
The Supreme Court will begin hearing arguments March 2, with the fate of clinics around the country and women's rights to make decisions about their own reproductive health in the balance.