For the third day running, students at South Africa's Rhodes University are protesting what they call a culture of rape on college campuses. Police used tear gas, rubber bullets, and stun guns on the crowd today, Reuters reported, and arrested at least five people.
Some of the female protesters went topless, pushing back against what they say has been a culture of victim-blaming:
G/O Media may get a commission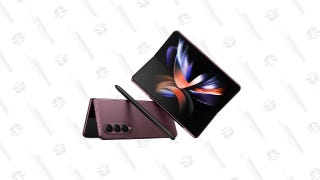 Save Up to $300
Galaxy Z Fold4
The protesters allege that school administrators don't take complaints of sexual assault seriously, and that rape victims are often ignored even if they file an official complaint. A list of 11 students who allegedly perpetrated sexual assaults but were not disciplined by the school was published online recently with the title #RUReferenceList, the BBC reported. It's illegal to identify someone implicated in a court case in South Africa until a defendant appears before a court, but it's unclear whether complaints were filed with the police against all 11 men named in the list.
Students say the administration has not been supportive of victims of alleged sexual assaults in the past, and are not satisfied with officials' evasive comments:
Rhodes University Vice Chancellor Sizwe Mabizela said the university has no records of reports being filed against the 11 men named in the list, the BBC reported. A spokesperson said the school would investigate the incidents if students file reports, and that the school plans to put together a team tasked with improving their responses to reports of sexual assault:
South African activists say the protests at the college are symptomatic of a wider sexual assault problem in the country. South Africa has one of the highest numbers of reported rapes in the world (there were 43,195 reported cases of rape in the country in 2014-15):
These protests come just a week after a campaign in the U.S. highlighting campus sexual assaults, which featured this video:
https://www.youtube.com/watch?time_continue=1&v=NJOtzj6THO8
In the U.S., colleges are beginning to take another look at their campus cultures: in September last year, a survey of 27 major colleges found that on average more than 20% of female undergraduate students said they had been sexually assaulted at school.
In South Africa, this could just be the beginning of a wider look at what young women are dealing with on campuses.