When someone applies for emergency food aid in New Mexico, the state has seven days to respond. Unless, of course, a government worker just changes the application to make it look like the person doesn't need help.
The Santa Fe New Mexican reports state government workers said Thursday that they altered the applications of people seeking emergency assistance so that they would be denied food aid.
Whistleblowers at the New Mexico Human Services Department testified in federal court that they would occasionally fudge the numbers on a person's aid application to make it look like they had $400 in non-existent assets. This would lead to the supposed fat cat hundredaires being denied or delayed assistance.
Just a reminder that "assistance" in this case means "food."
The hearing is part of a decade-old lawsuit against the state department in which it was ordered by the court to better train its employees and communicate with people receiving benefits in clearer language. The New Mexico Center on Law and Poverty, which is representing the plaintiffs, believes the department has violated those court orders.
G/O Media may get a commission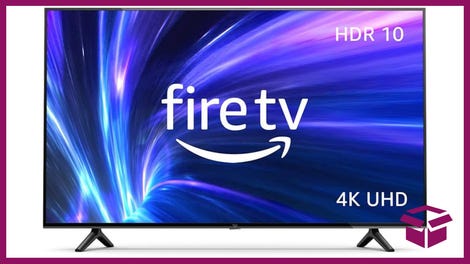 42% Off
Amazon Fire TV 50" 4K Smart TV
Department secretary Brent Earnest testified that while the department has missed deadlines, a court-ordered independent monitor would adversely affect their attempts to improve.
New Mexico has the one of the worst poverty rates in the country, but the New Mexican says the state has come under scrutiny recently for having such a high rate of denied food assistance. It also frequently is among the states with the highest unemployment, but that hasn't stopped the administration of Republican Gov. Susana Martinez from putting in effect rules tying food aid benefits to work quotas.
The New Mexican reports that Thursday's hearing ended when the judge told one of the department employees set to testify that maybe she should talk to a lawyer first about invoking her Fifth Amendment rights. Probably not a bad idea.