By this time next year, the tiny village of Baldwin, Michigan (population 1,200) could more than double in size, thanks to people moving in from other states.
But the town is not attracting outsiders with a North Dakota-style economic boom. It is, in fact, one of the poorest municipalities in the state of Michigan. Rather, the new arrivals will be coming from Vermont and Washington, after both states reached an unprecedented agreement to ship inmates from those states to a private prison, located just outside the town.
The North Lake Correctional Facility, which will reopen at the end of June after being closed for four years, will strictly house inmates from other states, as Michigan will send none of its own to the facility. It's the latest development in the controversial practice of how some states send local prisoners thousands of miles away from home to serve their sentences.
States argue that it's cheaper to send prisoners far away to private prisons than building and managing new facilities on the taxpayers' dime. But advocates say the practice brings its own problems.
"It's just not a good idea when you separate these inmates from their families and any support system that they might have," Doug Honig, a spokesperson for the American Civil Liberties Union in Washington, told Fusion of the contract his state just signed with the prison. "It doesn't do anything towards rehabilitating them, and helping them get back on their feet when they get back out."
G/O Media may get a commission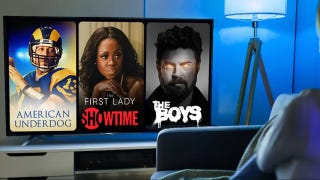 UNDER $1
99¢ Prime Video Channels
Indeed, studies have found that inmates who maintain family connections have lower rates of recidivism. A 2013 study on out-of-state prisons, conducted by Grassroots Leadership, an advocacy group that aims to end for-profit prisons, cited a prisoner who was only able to see his family twice in two years after being sent out of state. Previously, he had been seeing them every weekend, he said.
Across the nation, nearly 10,000 inmates are currently housed by private prisons outside the states where they were charged of a crime.
The utility of the practice varies from state to state. California started sending inmates out of state to address court orders concerning its prison overpopulation issues. It currently houses 7,826 inmates in out of state facilities, according to the California Department of Corrections, making it by far the nation's biggest exporter.
In the case of Hawaii, the Saguaro Correctional Center, located in Eloy, Arizona, was built specifically to address the overcrowding problem in its prison system. The center, which is owned and operated by the Corrections Corporation of America, even observes Hawaiian holidays and customs for its 1,351 current inmates. It's a little slice of Hawaii in the Arizonan desert.
Small towns with cheap land and high unemployment rates are the ideal places for private prisons to operate. Overnight, the new facility in Michigan will hire "approximately 120 local employees," with as many as "400 potentially in the future," say GEO officials. "It stands to do a lot for the economy of the county and the city," Dan Sloan, a commissioner for Lake County, told Fusion about the development.
There are, however, potential downsides for towns that become dependent on jobs at private prisons. Last April, a small town in Texas was left in financial ruin, along with hundreds of unemployed residents, after a prison there shut down operations following a riot.
In Baldwin, village president Len Todd is skeptical about the local prison's reopening at the end of the month. While it could give locals jobs and potentially fill up some vacant housing, GEO Group, the company that is operating the prison, has done little outreach or coordination with his office, he said.
"We are not overly enthused. I'm giving them about a 51 percent chance of making this work," Todd told Fusion. "They've opened and closed doors [to the prison] two times before, and in the end, the village is the one that ends up holding the bag."
"I'm not holding my breath," he said of potential long-term benefits to the town.
Vermont will start a process of sending 299 of its inmates to Baldwin on June 30, according to the Vermont Department of Corrections. Washington will be able to send up to 1,000 of its own prisoners to the facility, as needed to address prison overcrowding.
"We've been raising concerns about capacity over the last three or four years," Washington Department of Corrections Secretary Bernie Warner told the Seattle Times about the recently signed contract.
He said the state can operate at current capacity for "12 to 18" months more, at which time it will need to start shipping inmates away to Michigan.
Vermont's inmates are already being held in private prisons in Kentucky and Arizona, but the state's new contract with GEO will see them all getting transferred to Michigan. Even with the new contract, the state has been trying to end its use of the practice for years now, officials say.
"We are at the lowest number of offenders out of state since 1999," Lisa M. Menard, Deputy Commissioner for the state's DOC, told Fusion in an email. The department has "made significant progress" in efforts to bring the state's inmates back home, she wrote.
The companies who run private prisons are at times tied to controversy. Just last month, for example, a group of GEO whistleblowers came forward alleging that the company frequently violated the First Amendment, overused solitary confinement on inmates, and failed to properly train its officers.
"I had to learn everything on my own. They put me in a dorm and then they said, 'Alright. Good luck. See you later,'" a former GEO employee, who asked to remain anonymous reportedly told a watchdog group in a recording.
Advocates fear that the new facility in Baldwin will go down a similar route. Some jobs for the prison were posted as late as May 28, just over a month before it is scheduled to open.
"Are they going to hire and train all of the necessary officers how to defuse dangerous situations in just a few weeks time?" asked Suzi Wizowaty, executive director of Vermonters for Criminal Justice Reform, an advocacy group.
"There are studies that show private prison companies get less training than when governments operate the prisons, and here we are watching it happen before our very eyes," she said.
For its part, GEO says that it "began the hiring process in April," and that it "will work with the community to address all the necessary infrastructure needs" for the roughly 1700 bed facility. "For security reasons, we are unable to comment on specific opening/transfer dates or activation details," it said.
This post has been updated with comment from GEO Group
Daniel Rivero is a producer/reporter for Fusion who focuses on police and justice issues. He also skateboards, does a bunch of arts related things on his off time, and likes Cuban coffee.