For the first time in nearly a decade, cases of sexually transmitted diseases (STDs) are on the rise among Americans, especially young and gay Americans.
Yesterday, the Centers for Disease Control (CDC) published a report showing that reported incidents of chlamydia, syphilis, and gonorrhea increased in 2014 for the first time since 2006. From 2013 to 2014, reports of chlamydia went up 2.8% and reports of gonorrhea rose by 5.1%. Syphilis cases spiked more dramatically, a full 15.1% for both primary and secondary versions of the disease. According to the CDC, this figure suggest that gay and bisexual men (called MSM, or Men who have Sex with Men, in the report) are bearing the burden of the STD increase:

Syphilis is currently the only STD for which information on the sex of the sex partner is reported. However, a growing body of evidence indicates that MSM are experiencing similar increases in gonorrhea and chlamydia infections– underscoring the need to further understand what is contributing to the rise.
This CDC chart shows the severity of the situation for gay and bisexual men:
G/O Media may get a commission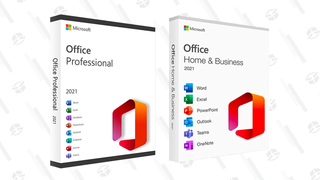 89% off
Microsoft Office Professional 2021 Lifetime License
Frighteningly, syphilis can help facilitate HIV transmission among those infected with both. The CDC explains:

More than half of MSM (51 percent) diagnosed with syphilis in 2014 were also HIV-positive. Infection with syphilis can cause sores on the genitals, which make it easier to transmit and acquire HIV.
Young Americans, aged 15 to 24, also saw significantly more STD infections in 2014 than in previous years:
Of the 20 million new STDs reported to the CDC each year, half come from Americans in this age range.
Gail Bolan who directs the CDC's Division of STD Prevention, said in a statement that "the consequences of STDs are especially severe for young people… Because chlamydia and gonorrhea often have no symptoms, many infections go undiagnosed and this can lead to lifelong repercussions for a woman's reproductive health, including pelvic inflammatory disease and infertility."
In May, health officials in Rhode Island linked an increase of STDs in the state to, among other things, online dating. But Bolan told NBC News she suspects the increasing rates could be tied to a decrease in national health funding. "Most recently, there have been significant erosions of state and local STD control programs," she said, explaining that "most people don't recognize that the direct clinical care of individuals with sexually transmitted diseases is supported by state and local funds and federal funds."
Consider this another reason to keep Planned Parenthoods, which offer STD testing, open.
Danielle Wiener-Bronner is a news reporter.