Eric Swalwell is the typical fairly-young-and-out-of-college American. He tweets up a storm. He has a wine rack in his office. And, naturally, he has about $100,000 in student-loan debt.
"I understand what young people are going through," Swalwell said.
Swalwell is also a second-term member of Congress, representing California's 15th congressional district. At 34, he's one of the body's youngest members and is fast becoming a rising star within the party.
He's one of the young House Democrats that make up the Future Forum, a group that's traveling around the U.S. to meet with young voters on issues like student loan debt. And along with fellow second-term Rep. Tulsi Gabbard (D-Hawaii), who is also a part of the Future Forum, Swalwell is one of two honorary co-chairs of the College Democrats.
The Democratic Party hopes these two can help keep young voters in the fold — by a large margin — in the 2016 presidential election. But they're coming up with their own party line.
G/O Media may get a commission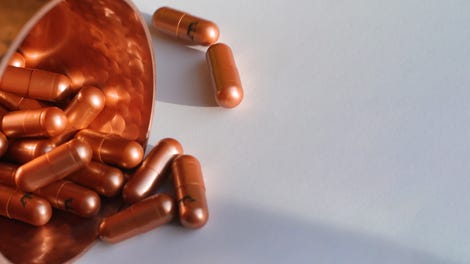 health
The Lyma Supplement
"It's so often we hear, 'How do we engage the young people?!'" Gabbard told Fusion. "And when people talk about it, it's like they're talking about a foreign language, or a foreign people they don't understand."
Still, reaching them is a distinct challenge for a party that needs young voters to turn out — and turn out big. And it will have to do so without the Barack Obama, the nominee who inspired young voters to go vote in record numbers. The party is lacking young stars in a bench of candidates that is extremely thin nationally, and the big question is whether these young members can turn a fledgling operation into lasting support for the party.
According to a recent survey from the Harvard Institute of Politics, 55 percent of 18- to 29-year-olds said they prefer that Democrats control the White House after 2016, compared with 40 percent who favor a Republican. But that's a fall from the splits of the Obama years — in both elections, according to exit polling, he got at least 60 percent of the youth vote. He beat his Republican opponents by at least 23 points.
John Della Volpe, the director of the Harvard Institute of Politics, said the early numbers are somewhat reminiscent of the 2004 election, in which Democratic nominee John Kerry narrowly edged then-President George W. Bush in the youth vote.
"Personally, this race to me looks like the 2004 race," Della Volpe said, when Kerry won the youth vote by just a 9-point margin. But it "wasn't enough to propel him to a national victory."
On top of that, the Harvard survey revealed that only 21 percent of respondents considered themselves "politically engaged" or "politically active." That's about half of the engagement level ahead of the 2008 election.
Part of Swalwell and Gabbard's job is to make sure that kind of 2004 split doesn't happen — and to get young people engaged. As co-chairs over the next year of the College Democrats, which is credited enrolling thousands of students in their chapters to support Obama in 2008, the two will help spread the organization's message to young people on college campuses.
And the Future Forum plans to head to cities like New York, Boston, and San Francisco, among others, for outreach at campuses, startups, and tech incubators. The early plan is to go on a "listening tour" focused on issues like student-loan debt, unemployment, savings, and home ownership. The goal, Swalwell said, is to come out with a legislative package they can introduce to address the issues that come up on the tour.
They each have the background that other young people could look to as both similar and exemplary. Gabbard was born in American Samoa, moved to Hawaii at the age of 2, and became, at 21, the youngest woman to ever be elected to a state legislature. She left the legislature and served two tours in the Middle East with the Hawaii National Guard. In between, she earned a degree from Hawaii Pacific University.
"My background may not be the traditional college student's experience," Gabbard said. "The experience that I bring to the table is one of understanding, hey, we've got a mission here. We can put together a strong team and come up with a great strategy to be able to accomplish that mission."
Swalwell, meanwhile, was the first person in his family to go to college, earning a scholarship at Campbell University to play soccer. But an injury derailed his soccer career, costing him his scholarship, and he transferred to the University of Maryland. He worked as an unpaid intern on Capitol Hill, working side gigs at a gym, handing out towels, and at the restaurant Tortilla Coast.
The college debt isn't his only money challenge. He quit his job as an Alameda County prosecutor to run for office and take on a 20-term incumbent, dipping into a savings account he was hoping to use to buy a home.
"I did everything to pay tuition and my bills," Swalwell said. "And even with that, I remember getting endless 'final notices' from the registrar's office. … I still remember all of that stress."
Swalwell and Gabbard both have used their time in office to try to engage with constituents in unique ways. Take Swalwell: He's experimented with Periscope, Meerkat, and something called Ginx, a photo-sharing app.
And in 2013, he was an early adopter of Vine. He used it on the House floor — a big no-no — to record video of his vote against a controversial bill that would have made it more difficult for a woman to get an abortion.
"I think rather than talking down to young people or telling them they need to be engaged, first listen to them, and tell them 'I'm smart enough to know that I don't know all the answers,'" he said. "But we live in a unique period in time where more people than ever can be a part of offering solutions — because of social media, because of new media."
Brett LoGiurato is the senior national political correspondent at Fusion, where he covers all things 2016. He'll give you everything you need to know about politics, with a healthy side of puns.