Well, it happened.
The resurrection of MTV's Total Request Live, a show that hasn't been on the air in almost 10 years, premiered today. I don't know if it was good or if it was bad, but it was certainly surreal to have such an old youth pop machine culture machine back in action in this age of endless digital content. Apparently the show is flanked by pre- and post-show content on Facebook, Snapchat, Instagram, and whatever other platform. It's fine!
There was a brand new set, brand new hosts, but in a millennial twist, no music videos. FEEL OLD YET? (Apparently they'll only be debuting new music videos in the future.) But of course there was one thing that really rooted the show in its original roots: screaming. The kids, they screamed at everything! At first I was curious how the show was going to fill up an entire hour with content, but I wouldn't be surprised if the combined intermittent screaming comprised 15% of the show. It's fine.
The hype that has been rather aggressively hammered into the internet over the last two weeks carried over into the actual show. Hosts DC Young Fly, formerly on Nick Cannon's Wild 'N Out, cohost Tamara Dhia (the internet?) and Liza Koshy (also the internet?), and special guest/host/patron saint of hype and brand recognition DJ Khaled maintained a steady, oppressively enthusiastic energy. It was an energy that could have seem natural if not for a couple technical hiccups and also that part when the show took a moment to address last night's deadly and tragic mass shooting in Las Vegas. It's fine.
In an interview last week, TRL showrunner Albert Lewitinn essentially refused to say if the show would maintain the politically conscious tone that the VMAs gave us. It turns out we did not have to wait very long at all to find out. The show was put in an awkward spot balancing the overflowing excitement of being "back on the air" and putting forth a more subdued and respectful tone to commemorate the victims. It's fine.
G/O Media may get a commission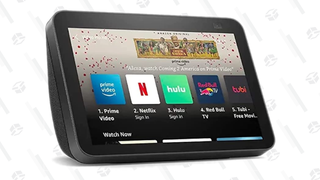 After holding a moment of silence for the victims of the Mandalay Bay shootings, DC turned things over to DJ Khaled, who doled out wisdom from a fancy chair on a stage branded "MAJOR KEY MOTIVATION." Khaled's khounsel: "Love is the key." Among other Khaledian lines about not playing yourself and loving yourself. Sure. It's fine.
Other "iconic" moments from the show?

Migos being asked to identify a picture of Carson Daly. (They did.)
Liza Koshi attempting to see how many people she could get to twerk. (One.)

Ed Sheehan being forced to choose which of two Ed Sheeran fans outside the studio, both of whom had Ed Sheeran tattoos, he would "Bless Up," and invite into the studio.
I'm sure the show will balance itself out, but while it gave us exactly what we expected, it does seem like a missed opportunity. Yes, the whole point of the show is to build excitement, but in reducing young people to screaming blobs of hype, TRL underestimates its audience, giving us a lot of content and not a lot of substance.