Amariyanna "Mari" Copeny is Little Miss Flint. She is 9 years old and lives in Flint, MI. She told me that in her free time she likes to "go on Twitter or just play with my toys or just lay down in bed, read, and play with my dollhouse, and color and draw and cheer." She hasn't been able to drink the water from the sink in her house for 1,071 days, because, as she put it, "you might die." 
Copeny's story has been lightly edited and condensed for clarity. 
The water smelled bad. It gave me a bad rash. It smelled like bleach. We couldn't use it no more. [We used] bottled water: 36 gallons for a bubble bath and so we could brush our teeth.

We were heading to D.C. and I wanted to meet President Obama, so I wrote a letter. Mama got a call one day: the White House. She came and brought the letter to me at school. He wanted to come to meet me.
I went up to him and he gave me a big hug and I gave him another hug when he was walking around.
G/O Media may get a commission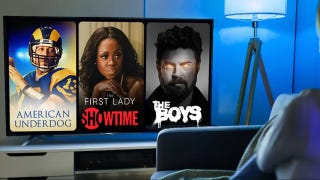 UNDER $1
99¢ Prime Video Channels
He said, "do your homework and stay in school."
[I told him] the water is still bad.
We didn't get the money [to fix the pipes] approved until December. [We need] new pipes, but they don't care about Flint because some people here are poor and black. They don't care about any poor people that need some help.
I met Janelle Monae and Jussie Smollett and Jesse Williams and Stevie Wonder. We were singing "fix the pipes!" I met Snoop Dogg, Morris Peterson, Donald Trump. I also met Bill Clinton and the Secretary of Education under the Obama administration–he was really nice–and Russell Simmons, and Katy Perry. I like Katy Perry. [I met] Sabrina Carpenter from Girl Meets World on Disney Channel, and I also met Frederick Douglass's great-great-great-great-great-great-great-great-great-great-great-great grandson.

Okay, there was just three greats.
Keep fighting for Flint! Don't let people forget about Flint.
I'm a celebrity now, so I can tell people not to forget about Flint. People listen to me better than anybody else, because people listen to kids better than adults.
Vote for me in 2044 for president. [I will] make sure everybody's water is clean, and make sure everybody has health care, because our water made us sick. People died. A lot of people. Kids had lead poisoning—brain damage, memory loss.
Dr. Mona [Hanna-Attisha] is my big hero because she's a pediatrician and she's the one who has to check kids, like different checkups and stuff to see if they have lead poisoning. [We talk] about me running for president.
Keep the attention on Flint and keep Grump accountable, because he looks like an Oompa Loompa and he's orange and he has that fake hair on! He's mean. He wants to build a wall in Mexico. He's the meanest person ever if he wants to build a wall in Mexico and get more money. He couldn't even hold his hand around my wrist. He has tiny little baby hands. Baby hands!
I will make America awesome. I will not use that catchphrase [make America great again] ever again because that sounds so weird. So weird! So instead, I'm going to make America awesome. People aren't gonna hate, and I'll give everybody a free hug.
There will be a wall between the U.S. and Grump.
I can change the world and make America a better place again. Anyone can change the world–but still don't drink the water.