Kentrell Collins says he has three strikes going against him: he's black, gay and lives in Mobile, Alabama.
He's got a fourth strike too: He almost always wears a sequin leotard when he performs with his dance group—made up of five gay and gender non-conforming dancers.
On Wednesday night, the Oxygen network will air the season premiere of a reality TV show that follows Collins and his dance group, the Prancing Elites.
The 30-minute series The Prancing Elites Project, offers an actual dose of reality during an era of broadcast television in which most unscripted "reality TV" shows feel very orchestrated.  The network is calling the show a "docu-series."
G/O Media may get a commission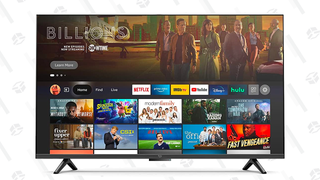 22% off
Amazon Fire TV - 50" Omni Series 4K - Early Access Deal
The five members of The Prancing Elites challenge concepts of gender and race even for today's progressive viewers. One of the dancers has long hair, wears makeup and goes by the name Tim. Another, Adrian Clemons, has a shaved head but also wears makeup. And this is all happening in and around Mobile, Alabama.
The show includes scenes of locals yelling homophobic and transphobic slurs at the Prancing Elites. In the first episode viewers will see more than a dozen people shaking their heads with disapproval. For the LGBT community in more accepting urban cities the show serves as a reminder that racism and homophobia is alive and thriving. For conservative anti-gay viewers, the show offers a mirror.
When it comes to LGBT civil rights, Alabama doesn't have any. When it comes to race, the state has been slow to integrate: Alabama didn't lift its ban on interracial marriage until the year 2000.
Laws that protect LGBT people housing and employment discrimination just don't exist in Alabama. There's nothing. Despite a federal ruling striking down Alabama's constitutional amendment banning marriage equality, the Alabama state Supreme Court ordered a halt to same-sex marriages.
The current political climate in Alabama makes The Prancing Elite Project all the more significant.
The scenes of a crowd booing The Prancing Elites as they're turned away from events because "men shouldn't dress as women" is powerful imagery.
"You know about Martin Luther King and Rosa Parks and all those people and they helped us have all our rights today," says Collins, the leader of the Prancing Elites, in the season premiere of The Prancing Elites Project.
"That's what we're doing," Collins says.
"We're not trying to change people, we're letting people know that we're different and it's OK to be who you are."