The roads to re-election for two right-wing conservatives who ran disastrous 2016 presidential campaigns are looking more and more difficult, with twin reports in Politico that detail the growing threat to Texas Senator Ted Cruz and Wisconsin Governor Scott Walker.

Both Cruz and Walker are straining to keep challengers at bay come November. In Texas, Democratic Congressman Beto O'Rourke is nipping at Cruz's heels, and it's been widely reported that O'Rourke outraised the incumbent by a margin of more than two to one last quarter.
The concerns are grave enough for Republicans to be ramping up what Politico calls a full blown "rescue mission," which has included Texas Lieutenant Governor Dan Patrick going to Washington in late July to beg the White House to send in Donald Trump and the monied conservative establishment—which Cruz made his name railing against—filling up the embattled senator's calendar with fundraising events. According to Politico:
Trump's rally is just the most public display of a Republican cavalry rushing to the senator's aid. Cruz remains a favorite to win another term, and some senior GOP figures insist the concern is overblown. Yet the party — which has had a fraught relationship with the anti-establishment Texas senator over the years — is suddenly leaving little to chance. Behind the scenes, the White House, party leaders and a collection of conservative outside groups have begun plotting out a full-fledged effort to bolster Cruz.

Texas Sen. John Cornyn, who's planning an October fundraiser for Cruz at Washington's Capital Grille restaurant, said he had a simple directive to GOP givers.
"We're not bluffing, this is real, and it is a serious threat," Cornyn, the No. 2 Senate Republican, said in an interview. "If Ted does his job and we do ours, I think we'll be fine. But if we have donors sitting on the sidelines thinking that, 'Well, this isn't all that serious,' or 'I don't need to be concerned,' then that's a problem."
Give until it hurts, bad men!
In Wisconsin, meanwhile, Schools Superintendent Tony Evers has taken a slight lead in the polls over Wisconsin's Bitmoji-loving governor. The strain is clearly starting to take a toll on Walker, with Politico documenting him snapping at a reporter on the campaign trail:
Concluding a statewide fly around in Waukesha on the first day of the general election campaign last month, Walker began moving away from a press scrum, taking no further questions. But when asked whether the people of Wisconsin could trust he was committed to a full term as governor, given his 2016 presidential run, Walker stopped dead in his tracks.

"Tony Evers ran for superintendent for a four-year term and a year after, he's running for governor. You ask him the same question?" Walker asked a reporter, pointing to the reporter's voice recorder, then pressing: "That's on the record, right? You're going to ask him the same question?" (POLITICO later asked Evers' campaign; the answer was "yes.")
G/O Media may get a commission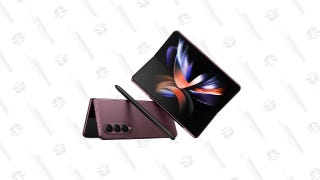 Save Up to $300
Galaxy Z Fold4
Spicy!! Walker pledged to stick around for at least four more years if elected, according to the site, but the governor wants you to know he has PLENTY of other options after faceplanting magnificently during the crowded 2016 GOP primary.
"A lot of people have said I could have easily gone on and done something else. I could have joined the Cabinet, could have joined the public sector," Walker said. "But instead, I'm committed to being governor."
A good lie, but it's become pretty clear that no one wants you! Here's to hoping that voters show Walker and Cruz how they really feel about them on Election Day.