In addition to using separate personal emails while working at the White House, Jared Kushner and Ivanka Trump reportedly shared a third account to communicate with other Trump administration staffers.
According to Politico, their shared account received and sent hundreds of emails; it was hosted by a domain Kushner set up as he was preparing to join the administration. While previous reports revealed Kushner and Ivanka Trump's personal email use, the existence of a third unreported account renews questions about how often these emails were used and how secure they were.
Previously, Politico reported that Kushner and Ivanka Trump used their personal emails sparingly. Kushner was said to have sent fewer than a hundred emails from his nongovernment account, while Ivanka Trump's use remained uncertain. However, one official said that both have used the third account "daily" with most of the emails sent from Ivanka Trump's assistant about her schedule. "They've pretty much been using it since they got here," the source added.
From Politico:
The family has declined to say what privacy measures have been placed on the domain, but a person familiar with the setup said some security measures were taken when it was installed.
Many of the emails came from Ivanka Trump's assistant and included work-related "data," according to a person familiar with the exchanges. Such messages were sent "daily," this person added.
G/O Media may get a commission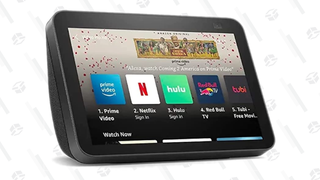 Other than the stunning hypocrisy of the whole shtick, using a personal email account to conduct official White House business is a massive security concern for any government official, including Hillary Clinton. If Kushner and Ivanka Trump used commercial email providers in conjunction with their personal domain, ijkfamily.com, than the security would be more reliable. But if they used their own email server, their communications would be significantly easier to hack. It's unclear which method they used.
As long as government officials forward emails from personal accounts they might have, the practice is not illegal under the Presidential Records Act. Security concerns, however, outweigh any question of legality. Information that isn't classified can still be sensitive and exploitable.