Nicolas Cage has a reputation for being one of the most entertaining and bizarre actors in Hollywood and this clip—recently resurfaced by The Michael McIntyre Chat Show— from his 1992 appearance on Terry Wogan's BBC talk program is a perfect example why.
In the short but action-packed video segment, a leather jacket-clad Cage enters the stage by doing a cartwheel, pulls out a wad of cash and starts making it rain, and then closes his entrance with a high-flying kick. Later on in the interview, he takes off his shirt.
If this were any other actor, it'd be easy to dismiss this as the behavior of someone under the influence of some substance. But this is Nicolas Cage we're talking about. This is the man who's on record as saying that adrenaline calms him down. No, this is a master of the thespian craft being in his element. Never change Nic Cage.
And because the making it rain of the cash/karate kick are worth watching again, here's a GIF of it.
G/O Media may get a commission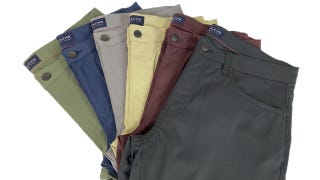 JACHS NY Fall Stretch Tech Pants
H/T Reddit
Fidel Martinez is an editor at Fusion.net. He's also a Texas native and a lifelong El Tri fan.