What if art could help us become better feminists? That's the hope with Rad Women Worldwide, a new book of illustrations from San Francisco-based writer Kate Schatz and illustrator Miriam Klein Stahl. Using simple silhouettes and a two-tone color palette, Stahl's illustrations are reminiscent of '90s Riot Grrrl zine art, while Schatz's descriptions capture what makes each of these "rad women" so very unique.
The book is a global counterpart to the authors' New York Times bestselling Rad American Women A-Z, published in 2015, which highlighted oft-unsung American feminist heroes from A (for Angela Davis) to Z (for Zora Neale Hurston). It also was a visually stunning and widely celebrated book, and one that featured women we rarely see celebrated in "traditional" feminist publications (hello, Patti Smith).

The new tome expands to include pivotal women throughout time and geographies. From fairly well-known figures like Malala Yousfazi and Burmese leader Aung San Suu Kyi to lesser-known (but no less awesome) women like Colombian street artist Bastardilla and indigenous musician and activist Buffy Sainte-Marie, the book is basically a primer in badass girl power. Of the 40 stories in the book, 30 are about non-white women.
G/O Media may get a commission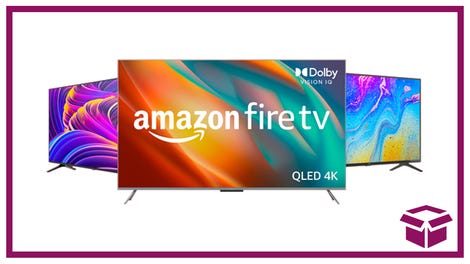 Ooh. stunning.
New Amazon Fire TVs
"After our first book came out, we quickly realized how great the desire is for books about inspiring women who've defied the odds and broken barriers," Schatz and Stahl told me. "It wasn't just activist and feminist parents who were happy to have a book like this—it was kids, teachers, college students, 20-somethings, older folks, women and men of all ages. They appreciate the stories of perseverance and inspiration, but also the diversity of the women whose stories we tell, and the ways in which we address the realities of race, gender, sexuality, and class."
The pair also felt that, now more than ever, we need to be celebrating rebellious, forward-thinking women. "From Tr*mp to Brexit to Burkini bans, we're seeing the effects of fear, isolation, and ignorance," the pair wrote to me. "We need to counter that with empathy and education!"
I could go on endlessly about how fantastic it is that a book like this one was able to be published in an era when women are still struggling to get represented in media, viewed in galleries, or even taken seriously by a publishing house. An era when we talk a big game about feminism, but feminist heroes are still marginalized by the history books. But instead, I would rather flip through Rad Women Worldwide, be dazzled by Stahl's illustrations, and maybe even learn a thing or two.
Rad Women Worldwide is now available for pre-order on Amazon. All images courtesy of Ten Speed Press.
Laura Feinstein is the Head of Social Stories at Fusion. Formerly, she held staff roles as the East Coast Editor of GOOD Magazine and the EIC of The Creators Project at VICE, and has contributed to The Guardian, T/The New York Times, Paper Magazine and many others. She specializes in the niche, the esoteric and the un-boring.