Weeds and uncut grass are overtaking parts of the abandoned Concho Indian Boarding School in Concho, Oklahoma. Established in the 19th and 20th centuries by Christian missionaries to assimilate Native Americans into European standards, such boarding schools have long been known as the place where Native culture, language, and beliefs went to die, where Native students were told their ways of life were "savage" and taught to conform to European ideals. They were also sites of violence and sexual abuse.
Since 2014, artist Steven Grounds has been trying to transform Concho Indian School into the site of a large-scale mural. Grounds, a Native American artist with Navajo, Euchee, Creek, and Seminole ancestry, started the project to teach himself how to paint on a larger scale. It has evolved into an ongoing mural that pays tribute to the Cheyenne and Arapaho tribes, who have allowed Grounds to take over the abandoned school to depict its former students and Grounds' heroes on its buildings and interiors.
Grounds focuses on creating portraits of people who played historically significant roles in Native history, as well as present-day American Indians who are making a positive impact on future generations. Among the people, past and present, featured are Sitting Bull, artist Woody Crumbo, artist Mallory Taylor, activist Adam Fortunate Eagle, and Suzan Shown Harjo, a well-known activist who is a member of the Cheyenne and Arapaho tribes. The president of the Morning Star Institute, a national Native American rights organization, Harjo received the Presidential Medal of Freedom in 2014 and has been a leading force behind the push to eliminate American Indian mascots in sports.
Grounds wants "to create an ongoing body of work that will eventually wrap around the entirety of the school and to portray a street art and graffiti aesthetic so that the people of Concho will have their very own tribute mural," he says.
G/O Media may get a commission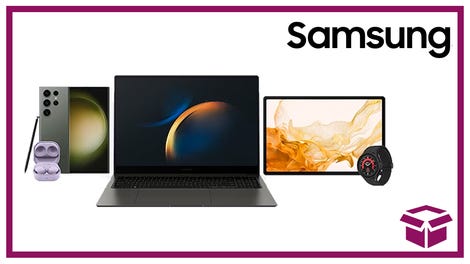 24 hour deals
Discover Samsung - Daily Deal
The Concho Indian School opened in 1871 to serve mostly students from the Cheyenne and Arapaho tribes. It shuttered in the early 1980s after a cost-cutting measure by the Bureau of Indian Affairs. In 1934, a federal law was passed to teach Native American culture and history to students attending Bureau of Indian Affairs schools. Up until then, it had been policy to assimilate students and eradicate tribal cultures through the boarding schools. Today, the Bureau of Indian Education oversees elementary, secondary, and boarding schools on reservations in more than 20 states.
Across the United States, American Indian tribes and state organizations are finding unique alternatives for one-time boarding schools. In Nevada, for example, the state's Indian Commission has created an advisory committee to support, promote, and assure protection of the history of the Stewart Indian School following its closure. The school served as the only off-reservation American Indian boarding school in Nevada from 1890 to 1980. It's listed on the National Register of Historic Places, and a cultural center is planned as well. And in Arizona, one building that was part of the Phoenix Indian School is being preserved and will become a cultural center.
Grounds, who has been interested in art since childhood, considers himself self-taught. He works primarily with aerosol, and in the past has used acrylic paint. Grounds says his focus is on "evolving and pushing the envelope with his own style." Because graffiti art is a younger medium, Grounds tries to push the envelope with his own work and coalesce other Native street artists. In addition to the Concho Indian School, Grounds' work can be seen throughout Oklahoma, including in Downtown Oklahoma City's Bricktown district, where he recently completed a mural with fellow American Indian artist J. NiCole Hatfield.
Although Concho Indian School is still full of debris and in disrepair, Grounds hopes to eventually turn it into a gallery space where people can see the murals up close. "It will always be a continual work in progress," he says.
Kristi Eaton is a freelance journalist who has reported from Mexico, Cambodia, Thailand, Myanmar, the Northern Mariana Islands, and the U.S. for a variety of outlets, including The Associated Press, Marie Claire, NBC News, The Washington Post. She's a fan of quirky roadside attractions, impromptu dance parties, and in-depth conversations. She also wrote a book about Main Streets in Oklahoma.