This evening, the Toronto Blue Jays and Cleveland Indians will kick off the first game of the American League Championship Series at Cleveland's Progressive Field. But the Blue Jays' longtime play-by-play announcer thinks there's something decidedly unprogressive about their opponent's name.
Radio announcer Jerry Howarth said in a recent appearance on The Jeff Blair Show that he will not say the name of the Cleveland team in his play-by-play— and he revealed that he's actually stuck to this rule since 1992.
Howarth, who works for Canadian broadcaster Rogers Media, said he made the decision prior to the 1992 playoffs against the Atlanta Braves after receiving a fan letter from a member of one of Canada's First Nations. The fan wrote that he found the use of "Braves," the team's "tom-a-hawk" chant and the referral to "powwows" on the mount as insulting.
"For the rest of my career I will not say 'Indian' or 'Brave,' and if I was in the NFL, I would not say 'Redskins,'" Howarth said.
Howarth's stance has inspired others speak out against Cleveland's moniker, with the Toronto Star reporting that Ontario Premier (like a governor if Canadian provinces were states and in the U.S. instead of Canada) Kathleen Wynne praised Howarth's stance.
G/O Media may get a commission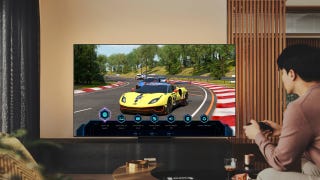 Up to $700 off
TVs, Cell Phones, Smart Home, and More
"If it were language around another group we would see more it readily. Because it's indigenous people and we haven't really had the honest discussion up until now we've kind of turned away or haven't even recognized it as a problem," Wynne said.
Others expressed their support on social media through the hashtag #NotYourMascot, which has long been used to protest the use of native american imagery by professional and amateur sports teams.
All this criticism comes as the Indians themselves appear to be in the midst of a makeover to appear slightly less racist. Ohio.com reported earlier this week that the team's mascot, Chief Wahoo (gross) was taking a bit of a backseat in the the organization's branding and could not be found anywhere on the team's postseason merchandise.
Curtis Danburg, the team's senior director of communications, indicated that the team was aware that its mascot was controversial, but that no one should hold their breath waiting for a change.
"We are very cognizant and sensitive to both sides of the conversation — our fans' deep, long-lasting attachment to the memories associated with Chief Wahoo and those who are opposed to its use," Danburg told Ohio.com. "We continue to research our fan base to better understand their perception and stance on the logo, but at present time have no plans of making a change."
As stubborn as that is, it still demonstrates more willingness to at least acknowledge there is an issue than has been shown by the Washington Redskins, whose name has sparked similar controversy. An ever-growing list of news outlets have made similar pledges to Howarth's not to use that team's name even as owner Dan Snyder continues to defend it.
"We'll never change the name," Snyder told USA Today in 2013. "It's that simple. NEVER — you can use caps."