If gentrification had a ground zero, it just might be San Francisco's Mission District. A neighborhood infused with flavor by generations of immigrants, artists, and working class families that have called it home, "La Misión" has, in recent years, seen some serious changes. A different class of newcomer—young, tech-employed, and able to pay crazy sums for housing—has moved in and set up shop, causing widespread displacement and contributing to tensions that are cultural as well as economic.
Josué Rojas, a Salvadoran-American visual artist who grew up in the neighborhood—he was one year old when he arrived with his family, fleeing the violence of war and political instability in El Salvador—explores these tensions in his recent exhibit, titled "¡Gentromancer!" (a reference to the 1984 cyber-punk novel, Neuromancer, by William Gibson). Rojas isn't the first artist to tackle the issue of gentrification, but his show—a collection of paintings that literally spill off the frame, presented alongside the work of local poets—is unique, in part because it conveys something deeper than the pain and anger caused by displacement (although it does do that). It's about the resilience of those who have stayed.
Fusion's Rise Up: Be Heard fellow Symone Jackson interviewed Rojas at the Juan R. Fuentes Gallery on 24th Street in The Mission, where "¡Gentromancer!" made its Bay Area debut. Below are excerpts from that conversation, lightly edited.
What about your personal experience inspired you to create "¡Gentromancer!"?
I actually have dealt with gentrification first-hand. I've had to essentially leave this part of town because someone wanted the place where I lived, and offered my family money: "Either take this money and leave, or leave without this money and I'm going to give it to some lawyers." That was really intense and scary, and I've had a lot of time to think about it. So when I had an opportunity to do art—and I've done it in a lot of different spaces all over the world—I had the opportunity to do it here (in The Mission)  and I felt like I needed to speak about this experience, especially since it's not only my experience, it's the experience of a lot of other people.
G/O Media may get a commission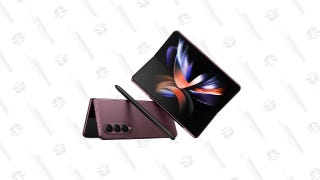 Save Up to $300
Galaxy Z Fold4
Clearly there has been a lot of pain and anger caused by displacement, but "¡Gentromancer!" conveys more than that—it shows the resiliency of locals who are still here. Was that intentional?
It's not necessarily constructive to just say, "Oh, I'm so angry and this is so disturbing." I think it's great to express ourselves in that way, but also I think it's good to provide an image of something else, and I think as artists, that's the role. We're supposed to provide hope and an image of what we want, not necessarily what's there. Sometimes the things that we want aren't on the menu, so we've got to create that. I think in a very real way, we have to speak the things that we desire… It's almost like a religious faith, you have to sort of speak the things that are not, as if they were. And that's kind of what I'm trying to help the community imagine.
It's kind of weird to say that we're occupying our own neighborhoods, but we have to occupy. When a new business comes up that seems to cater to a different community, we should walk in there. We should feel completely comfortable, and be like, "Alright, you know what, I'm going to drink this coffee and be right here next to you. You're going to have to look at me. You're going to have to deal with me because you're the one who opened this shit right in front of me… I don't care if it makes you uncomfortable, I don't care if it makes me uncomfortable." Sometimes that's what's necessary, and a lot of good conversations can happen, but you have to kind of have thick skin. But that's the goal, the space that we have to navigate now.
Your work is obviously an expression of what's happening in The Mission District and the greater Bay Area, but the themes would resonate in so many communities right now.
I looked up #fuckgentrification on Instagram—I though it was going to be the Bay Area, San Francisco—and I got New Orleans. Istanbul. I got stuff from L.A. I got stuff from Brooklyn. I got stuff from Chicago. All of these different spaces are all dealing with the same idea and I think it's really important for us to subvert this narrative that says, "Ok, y'all gotta go… These neighborhoods are now going to be the whitest, richest neighborhoods." I think there are people, daily, that are coming into our communities who are immigrants, and they are occupying this space; people who are poor, people of color, queer folk. We also have to keep our eye on those folks and know that we are going to occupy this space in a really creative and subversive way. So here's this dominant story, and then here's our story.
When I see things like the Millennium Tower, built on foundations that have fallen, I'm reminiscent of the whole idea of Babylon falling and the whole idea of, this thing is built on a weak foundation and it can't stand. And that weak foundation is, really, being inconsiderate of the working class poor, inconsiderate of the people in the city that are teaching your children, the people in the city that are making your food, the people in the city that give it its flavor. We are those people, and we have to realize and come at it from a place of being empowered, and not a place of being disempowered. I think when we take these narratives, and give our narrative, and really subvert these narratives, then we are telling the truth and we are also being empowered.
Your work seems to draw on different creative influences, styles and formats, pictures and words…
So there's a piece (in the exhibit) called "The Hero Twins"—a piece that refers directly to the Popol Vuh, which is a Mayan creation story—and it talks about these two twins that die and resurrect. They defeat evil through their cunning and creativity by dying and resurrecting. So I think it speaks to us having to renew. We can't fight yesterday's battles in the way that we did yesterday. We've got a whole different battle, we have an array of different tools, and I think we need to embrace that, but in the exact same way be connected to our story, to our history, to our ancients, to our ancestors. I'm looking to do that and I'm using a variety of different languages. I'm using the image and the written language as a one-two combo.
Another big influence for me is [the author] Junot Díaz.  He has this really fun way of using footnotes. Generally, footnotes are this subtext that sort of informs the rest of the writing, but he uses it as part of his text in a fun way, and he swears, and he adds a lot of commentary and informs it with comedy and jokes and criticism. I feel like if that literary idea were visual, that's what I'm doing when I present the images, but also with words, and on top of that, drawings on the wall. As a community, we've got the arts, we've got skills, we've got traditions. Why not use them all? Why not mix and match? Why not play with them? I'm just trying to give as many entry points as I can to people, so that they can come in at some point, even if they don't entirely know what it's about.
Did you always know that you were going to be an artist?
I was very lucky in that sense. I was just not good at anything else. My brothers were musicians, some people were doing good in school. I didn't have any of that. But I was really good at expressing myself. Maybe I wasn't the greatest drawer, but I could tell my truth with drawing and painting. So I was very lucky in that I knew I wasn't good at anything else at that point. I learned a lot of other things, but that was the first thing that I really felt command of, and ownership of, and connection with. I think that some kids growing up in this neighborhood look at these murals and see this stuff happening, and they also feel like they can be artists, and that's exactly how I want them to feel—because we need it.
What else would you like people to know about your art or gentrification in general?
What I would like people to know is that this big, scary, looming monster is not an impenetrable fortress. There are vulnerabilities, there are holes and pockets, and we should occupy those, and we need to weaken this idea. Without us, there is no America. Without us, there is no thriving, living city. You can't have the song you love, without the songbird. You can't get rid of the songbird. That's who we are. And like the song says in Spanish, you can go wherever you want, you can kick us out, whatever—fine. But it will always taste like us. The song is called "Sabor a Mi." You will always have the taste of us on your lips. Some of us do have to go, but don't forget that we're the ones who made it tight. We made it dope. We made the food taste how it tastes, we made it look the way it looks, right? That can be said about the African American experience: You want to talk about rock and roll? Okay, let's talk about the black contribution to that, without which you don't have rock and roll. Or even jazz, or even gospel, or even salsa. You can't have experiences that are a mixture, without the Afro-Latino and the African experience. We are all connected in this way, and I think it's really important to bear witness to that, to own it, and to give ourselves license to use these expressions.
Main article image courtesy Jessica Webb
This content was made possible by a grant from The California Endowment and produced independently by Fusion's Rise Up: Be HeardJournalism Fellowship.