When you walk down the aisles of children's toys in big box retail stores, it's immediately apparent that we expect boys and girls to want to play with drastically different things.
The boys' aisles are consistently decked out in dark shades of blue and black and chock full of superheroes, cars, and guns. The girls' aisles, by contrast, are done up in shades of pink and purple, advertising dolls and creative crafts like baking. While there's nothing that explicitly says that a boy can't want a singing Elsa doll or a girl can't want to put on the Hulk's fist gauntlets and smash things, the implicit message that they aren't supposed to is loud and clear.
In a new commercial, Ireland-based toy superstore Smyths says to hell with the gendered binary we project onto toys—a child's imagination can transcend dated ideas about what's "appropriate" for boys and girls. The 40-second spot "If I Were A Toy" features a little boy named Oscar fantasizing about all the adventures he could go on while borrowing lyrics from Beyoncé's "If I Were A Boy" to show that boys can dream of being princesses, too.
Just as quickly as the boy is crowned princess (or queen or other gender-nonconforming monarch) of a kingdom of living fluff balls, he whips off into space piloting the Millennium Falcon, which makes perfect sense because this is exactly how children play with toys.
G/O Media may get a commission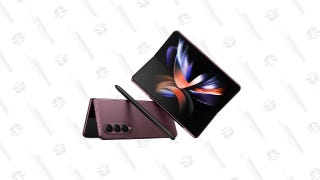 Save Up to $300
Galaxy Z Fold4
The ad has been met with praise from parents appreciative of Smyths for choosing not to enforce gendered stereotypes that toy marketing often reinforces in children.
@SmythsToysUK Love the new Smyth's Toys ad. Kids can be whatever they want to be and not have to conform to gender stereotypes #ifiwereatoy pic.twitter.com/5fYCRb2dps

— Terri Langan (@terrilanganTV) September 26, 2016
The advertisement reflects a growing trend amongst many retailers who are increasingly choosing to do away with gender in how they organize toys within their physical stores and online. Last year, Target and the official Disney store stopped labeling toy aisles according to gender in brick and mortar locations, while Amazon and Toys "R" Us did the same digitally. Target followed up on their new policy this year with a promo for Captain America: Civil War toys featuring a girl Iron Man taking on her male friends.
While these changes are a definite step forward, there's still much to be done when it comes to toy manufacturers themselves who've proven to be somewhat stubborn when it comes to creating toys of female characters like Rey from Star Wars that can be marketed to kids of all genders.