By now, you've heard the news. A large group of American politicians don't want Syrian refugees coming into the country. Especially if they are Muslim. But with Thanksgiving upon us, and remembering that one time a bunch of Native Americans accepted and fed a bunch of refugees from across the pond who were persecuted for religious reasons, it might be a good moment to reflect on what happened in one American city when tens of thousands of mostly Muslim refugees descended on it.
Within the span of 40 years, St. Louis, Mo. went through a momentous swing of depopulation. In the 1950 Census, the city registered 856,796 residents, making it one of the largest in the nation. By 1990, that number had dwindled to 396,685.
That's more than a 50% population decline. White flight, suburban sprawl, people moving to other booming parts of the nation; these all had something to do with the shift. The result: huge swaths of abandoned, shuttered parts of town. No man's lands. Crime skyrocketing. City services faltering, failing to reach those who remained.
South City, one of the most hard-hit areas, was by some accounts a place to be avoided.
But then came the Bosnians. Tens of thousands of them — mostly Muslim — were resettled in the city during that country's civil war, which started in the early 1990s. Most of them settled in South City, a neighborhood known today as "Little Bosnia." South City soon became a mecca for other Bosnians to move to from other parts of the country. Currently, there are an estimated 70,000 living in the city, making for the largest population of Bosnians located outside their country.
G/O Media may get a commission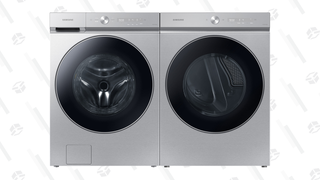 Get $500 back in credit
Last Chance: Samsung Bespoke AI Washer and Dryer Preorder
The results, according to a 2012 Saint Louis University paper titled "The Economic Impact of Immigration in St. Louis":

They revitalized parts of South St. Louis City and South St. Louis County by moving into older neighborhoods, opening businesses and rehabbing housing. Bosnians opened many thriving small businesses including bakeries, butcher shops, coffee shops, construction and heating and cooling companies, insurance companies and a truck-driving institute, and continue to be a key source of high skilled production work.
The effect is that if you drive through Little Bosnia, as I have done, you would never know that it was once a downtrodden part of the city. Today it is an ethnically diverse, economically thriving part of the region. And yes, there are plenty of mosques.
The answer as to why things turned out like they did, argues paper author Jack Strauss, is that immigration of all kinds is usually beneficial to a post-industrial city like St. Louis.
In fact, he makes a strong argument as to why the city should attract more immigrants, namely the very Syrian refugees that are being dragged through the mud by the public servants of America. The city has seen less than average immigration over the years, as compared to other cities.
"Immigrants are 60% more likely to be entrepreneurs in the region," he argues in the piece, "and therefore, the relative lack of immigrants is a major factor in explaining the region's shortage of new business startups."
"If St. Louis had matched the immigration inflow of other large metros, housing prices would be 26% higher in St. Louis City and 20% in St. Louis County over the last decade," says Strauss.
And the thing is, the people of St. Louis are apparently on board. Protests calling for Syrian refugees to be let into the city have even taken place. City Mayor Francis Slay — whose family came to the U.S. fleeing violence from Lebanon — is on board. "The City of St. Louis will not place a religious test on our compassion," he wrote on his website. Governor Jay Nixon is also on board.
"What destroys the economy is loss of population and people spreading out," Faizan Syed, a protest organizer, told the Guardian. "From a business perspective, bringing the population in will have a very positive effect. The Syrians could move into north county, Ferguson even, because homes are very cheap. People are moving out of this area, and the population is declining. You'll find homes here for 30, 40 thousand dollars. Why not bring in a population to fill those homes? This can have a rejuvenating cyclical effect."
"If we have the resources in place, how could the White House possibly turn us down? There's an overwhelming response of: 'We want to do this, please let us do this.'" added Marie Ceselski, who sits on the city committee.
Cities like Detroit and Baltimore, both of which have a similar mix of longstanding issues — high murder rates, depopulating trends, empty housing — have also called on the White House to allow bring them more immigrants, from wherever them may come. Statistically, studies show, immigrants and refugees economically help cities and the overall nation.
Currently, there are 29 Syrian refugees already living in St. Louis, said Anna Crosslin, President and CEO of the International Institute of St. Louis, the city's largest refugee resettlement nonprofit. Her group has sponsored each of the 29. "They were all doing very well, but the rhetoric we've been hearing in the news has hit them hard," she said.
"We were planning to bring 500 more" this year, she said, "but that depends on the federal government now."
After the attacks in Paris earlier this month, over 30 governors have come out against letting in Syrian refugees due to apparent fears that terrorists could take advantage. A bill moved through Congress imposing extra security burdens for those attempting to be admitted to the U.S. as refugees, fleeing both the Syrian Civil War and ISIS. Syrians and Iraqis are already the most heavily vetted category of people entering the U.S., and the process can take up to two years to complete, even without the added burdens. President Obama has said that he plans to veto the bill.
Fears that the refugees could pose security threats are unfounded, said Crosslin, especially the assertion that they pose an extra threat because many are Muslim. "Saying that you're Muslim is like saying that you're Christian," she said. "It's practiced very differently from person to person, house to house, and country to country." Refugees are fleeing terrorism in the name of religion, she reminded, not bringing it with them.
Twenty years ago, when her organization was sponsoring over 9,000 of the Bosnians who came to the city, there was an initial pushback from some parts of the community about what the influx would mean to the fabric of the community, she said.
"But after a decade or two, that sentiment is basically gone," she said. Nowadays, she argued, people are more likely to refer to letting in thousands of Bosnians as "one of the best things that has ever happened to the city."
Daniel Rivero is a producer/reporter for Fusion who focuses on police and justice issues. He also skateboards, does a bunch of arts related things on his off time, and likes Cuban coffee.