CONCEPCION, Colombia — A group of armed bandits recently ambushed and robbed the mayor of this small town, but they didn't get much for their effort.
The thieves shot at Mayor Gustavo Lopez's car as he drove into town, forcing him to stop and empty his pockets at gunpoint.
"They took my wallet, but I didn't have much cash in it," Lopez told me over a coffee in his modest office. "They also took my cellphone, but they couldn't retrieve the money I had in there."
That's because Lopez uses mobile money, a technology that is quickly growing in Colombia and other parts of the developing world. His town of 5,000 is trying to become the first in Latin America to entirely phase out cash and rely solely on digital currency.
For this mountain town, accessible only by unpaved road, switching to digital currency is not about being hip, it's about being practical.
G/O Media may get a commission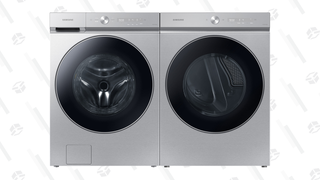 Get $500 back in credit
Last Chance: Samsung Bespoke AI Washer and Dryer Preorder
"We've had persistent problems with a gang of road thieves here, so this system is also good for merchants, because it means they don't have to carry cash with them when they go to [nearby] Medellin," Lopez said.
Mobile money allows people to keep their earnings in cellphone accounts, and pay for things via text message, without having to apply for a credit card or open a bank account. The virtual currency has a reputation for being safe and easy to transfer over long distances, without using the internet.
In Concepcion, more than 90 percent of local businesses already accept mobile money. Tuk-tuk motor taxis, restaurants, grocery stores, and even the guy who sells mangoes on the street  take cellphone-to-cellphone payments. That means that you can eat, sleep, and travel around this town just by charging your mobile money account at a local agent, and then never reaching for your wallet again (as long as you have some battery life left on your cellphone).
"I've been using it since day one," says Adeyson Rios, a local grocery store owner. "People from the countryside can order things and pay me directly at my cellphone number, which means my delivery guy doesn't have to carry any cash around."
Concepcion started to get into mobile money about eight months ago, when Davivienda, one of Colombia's main banks, asked municipal officials if they would like their town to be part of a pilot mobile money project. The bank wanted to use the town as a laboratory to show the rest of the country that mobile money can replace most cash transactions when an adequate "ecosystem" is put into place.
To participate in the financial experiment, businesses and individuals had to sign up to Daviplata, the free mobile money platform that the bank has run with cellphone operators for the past three years. To make that happen, the bank sponsored meetings with local businesses, and hired local youth to go door to door answering questions and encouraging people to join. Davivienda also set up a new ATM machine that connects to the mobile money platform, and helped local teachers design a personal finance class for children.
Then the bank and the local government promoted what they promised would be a "historic" event: A day when nobody used cash.
"It was amazing," says Adrian Henao, a 23-year-old municipal employee who regularly deposits most of his salary into his mobile money account. "We had a market where everyone paid for things with their cellphones…there was even a woman who paid for an onion with Daviplata."
The day with no cash was so hyped it even marked one of the rare occasions in which a top government official visited Concepcion. The national director of economic planning flew into town aboard a helicopter, along with Davivienda's CEO, to talk about how the government wants to boost mobile money across Colombia. The bank made sure there were more than a dozen journalists in town to witness history being made.
But when I visited Concepcion two weeks later, most people seemed to have already switched back to the old way of doing business — with dirty coins and crumpled bills.
Though most businesses now accept Daviplata payments, local merchants say that only a few people have stuck with the mobile currency.
"Sometimes the system is slow, and it takes a while to go through the required steps" said Rios, the grocery store owner. "So people get lazy and they prefer to pay me with bills."
"I only get like two people a week who pay with that," said Teresa Vergara, a local restaurant owner who has posted a sign with her Daviplata account number in a place where everyone can see it. "When the promoters and the journalists were here everyone was using it, but now people seem to be losing the habit."
Lorena Garcia, a shop attendant in her twenties, said her bosses took advantage of the historic "day without cash" to pay her salary into her mobile money account in order to "set an example." But as soon as the party was over, she went to the ATM machine to trade her cellphone money for real pesos.
"We're used to cash here, and for many things we still need it," Garcia explained. "You can't board a bus to Medellin and pay with your phone."
William Maurer, a professor at University of California Irvine who's about to publish a book on the digital cash economy, says Concepcion's experience is "very typical" for places trying to switch to mobile money.
Although the system provides clear benefits, such as facilitating the transfer of remittance money to relatives in far-off villages where banks don't exist, it usually takes time for people to adapt to the new technology. It's particularly tough to promote mobile money in places where it's not used regularly to pay salaries.
"It's a big challenge," said Maritza Perez, Davivienda's VP for Personal Banking. "In order for this to expand you need the government and private sector to work together. You need everyone to accept digital money and pay their salaries through these platforms."
Local business owners say the most frequent users of mobile money in Concepcion are actually campesinos and single mothers who get government welfare payments sent directly to their mobile phones. The Colombian government currently distributes subsidies to more than 1 million people in the country through mobile phones using Davivienda, which saves the government on costs —and dangers —of distributing cash across the country.
Despite problems with early acceptance, Perez says mobile money has the potential to provide a pathway into the financial system for millions of people who have no access to credit cards or bank accounts.
"Many businesses in Colombia work informally and just use cash, which means there are no records of their transactions," Perez said. "When they use digital systems like Daviplata we get a record of their transactions, and that makes it easier for us to give them loans."
Perez notes that in three years, Daviplata has already grown to 2.6 million users in Colombia, covering about 5 percent of the country's population. The number of digital transactions in Concepcion alone have grown from just a few hundred in 2014 to more than 26,000 in the first six months of this year.
Adrian Henao, the young municipal employee who has become a leading booster of mobile money in Concepcion, says it's "hard to change people's chip sometimes." But he's hopeful it will take off. "I think we'll get there," Henao said. "Mobile money is safer, and it feels good to be on the vanguard."
Manuel Rueda is a correspondent for Fusion, covering Mexico and South America. He travels from donkey festivals, to salsa clubs to steamy places with cartel activity.