This story includes offensive language.
The top line read "Dumb Niger" [sic] in graffiti. Below it, "Black lives matter for target practice." The message, spray painted on the side of Wayne and Marilyn Scott's home in Florida, was discovered and reported to the police by a neighbor Tuesday morning.
"Honestly, I started shaking and crying. I couldn't believe somebody would do that to us," said Marilyn. The couple was out of town when it happened.
Wayne Scott purchased the house in Pinellas Park, Florida, nearly seven years ago. An Iraq veteran, he was in a truck that was hit by a roadside bomb and flipped over. Scott suffers chronic pain.
"We deal with [the pain] day by day," said his wife, who has been married to him for nearly a year. Scott said she was upset about the vandalism, but was more concerned about its effects on her husband. "He's in the military, he served the United States," she said. "I couldn't believe somebody would do something that horrible to him."
This isn't the first time property has been vandalized by racist messages in this community. According to Bay News 9, a local news station, a serial vandalizer has also spray painted "KKK" and ""impeach Obama stupid ni—-er" on cars and homes in the neighborhood that the Scotts live in. A call for comment to the Pinellas Park Police Department wasn't immediately returned.
G/O Media may get a commission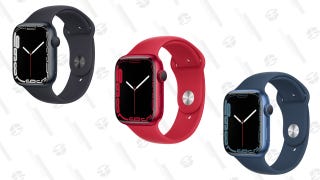 Up To $45 Off
Apple Watch Series 7
"It's a very quiet neighborhood," said Scott. "We have seen other couples who are black, but I think there are only a few [interracial] couples like us," she said. "I don't know if they're trying to scare us, or get us to move out."
The vandalism that occurred in this sleepy community in Florida appears to be an act of provocation to the Black Lives Matter movement writ large. The organization formed in Florida in response to the killing of 17-year-old Trayvon Martin, about two and a half hours away. The movement gained momentum last year after the death of Michael Brown in Ferguson, Missouri.
A Go Fund Me page with over $1,400 raised so far has been started for the couple, something Marilyn Scott said she appreciates. "It makes me feel that people really love and care for [her husband] and that he served our country. And that's all I want," she said.
"Today he's finally able to talk a little bit more about what happened. He's dealing with a little bit better than yesterday," said Marilyn Scott. "We woke up today and it sunk in. Yeah, it really happened."
"He's trying to stay positive, and I was happy," Sophfronia Scott said of her brother, who is 51 years old. "I just feel like maybe we've gotten to an age where we don't have this hotheadedness. We think: this is terrible, but what else is happening here?"
Correction: An earlier version of this article misidentified the location of the Scotts' home. It's in Pinellas Park, not Clearwater.
Collier Meyerson is a reporter at Fusion with a focus on race and politics. She lives in Brooklyn.