On Wednesday morning, Daniela Vargas was speaking before a crowd of reporters in downtown Jackson, MS, where she talked about her life as an undocumented immigrant in the United States.
By Wednesday afternoon, 22-year-old Vargas was in Immigrations and Customs Enforcement Agency custody—arrested  by ICE agents who pulled her car over as she and a friend drove away from the Jackson press conference, the Associated Press reported.
Speaking with the Clarion-Ledger, Vargas' attorney Abby Peterson said ICE agents told her client, "You know who we are. You know what we're here for."
Vargas' family had originally immigrated to the U.S. from Argentina on a three-month visa, when Daniela was just seven. A beneficiary of President Obama's Deferred Action for Childhood Arrivals policy for undocumented immigrants brought to the U.S. at a young age, Daniela's status has currently expired, although the Clarion-Ledger notes that her biannual renewal application is pending.
In mid-February, Vargas' father and brother were arrested in an ICE raid on their family home. Vargas reportedly barricaded herself in the closet during the arrest, only exiting once the federal agents had left.
G/O Media may get a commission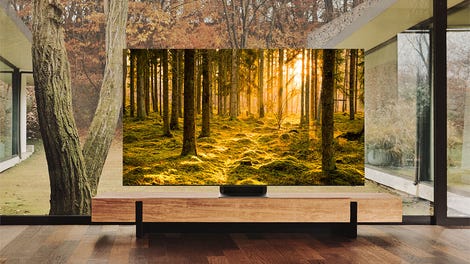 Up to 40% off
Samsung Smart TVs
"My dad had just given me a kiss and said bye," she told WAPT.  "I was asleep. Then I don't know how much time later…my dad said, 'Danny, immigration is here.'"
After the raid, Vargas went into hiding, saying, "I'm terrified. I'm scared to go home."
Wednesday morning's press conference, organized in part by the Mississippi Immigrants Rights Alliance, was held "to support those targeted in ICE raids around the state," the group explained in a Facebook post. There, Vargas told the crowd that while her father and brother now face deportation, "I continue to fight this battle as a DREAMer to help contribute to this country, which I feel is very much my country."
Peterson told the Clarion-Ledger that despite explaining to ICE that her client's DACA status is in the process of being renewed, Daniela was nevertheless being detained and could be prosecuted without a hearing.
Vargas' arrest comes amid a harsh crackdown by the Trump administration against undocumented communities. She is at least the third DACA recipient to be detained in recent weeks.
UPDATE: On Wednesday afternoon, the Immigration and Customs Enforcement agency released a statement on the arrest.

U.S. Immigration and Customs Enforcement (ICE) took Daniela Vargas, 22, an unlawfully present Argentinian citizen, into custody March 1, during a targeted immigration enforcement action in Jackson, Mississippi.

Every day, as part of routine targeted enforcement operations, U.S. Immigration and Customs Enforcement (ICE) Fugitive Operations teams arrest criminal aliens and other individuals who are in violation of our nation's immigration laws. ICE conducts targeted immigration enforcement in compliance with federal law and agency policy. ICE does not conduct sweeps or raids that target aliens indiscriminately."

Ms. Vargas was previously encountered at her residence Feb. 15, at which time ICE exercised discretion to not take her into custody due to her claim that she had DACA. Subsequent to this encounter, ICE verified that Ms. Vargas does not currently have approved DACA status.

A federal immigration judge will now determine Ms. Vargas's custody status as well as decide whether or not she is eligible for immigration relief. ICE will await the outcome of these proceedings before a federal immigration judge before taking further action.

ICE is focused on identifying, arresting and removing public safety threats, such as convicted criminal aliens and gang members, as well as individuals who have violated our nation's immigration laws.