Trey stops talking. His eyes dart to the left. Under his breath, he tells Day Day to follow his gaze, his voice equal parts pressing and excited. The camera pans right to reveal two middle-aged black men strolling by, presumably gay and undoubtedly stylish. Neither Day Day nor Trey ask for their names—they don't say anything. They just stare on in rapt silence.
The scene comes toward the end of Check It, a new documentary about a gang of gay and transgender young people that premiered last Saturday at New York's Tribeca Film Festival. Although brief, the moment powerfully underscores a number of questions that the film raises about vitality, opportunity, and possibility. How can one achieve anything if the opportunity is never presented? How can one seek out opportunity if it doesn't seem possible? And how can one imagine possibility without evidence of a viable future? One can't, the film seems to say—or at least it's damn near impossible.
Filmed between 2012 and 2014, the documentary explores the lives of Trey, Day Day, Alton, Star, Skittles, and a handful of other members of the Check It, a Washington, D.C., gang composed of young, black LGBTQ people.
The group's founders formed the Check It as a means of protecting themselves and others from the kind of homophobic, racist, and transmisogynist violence they experience every day at school, on the street, from police, and sometimes even at home. Their extended network counts over 200 members, according to the film.
G/O Media may get a commission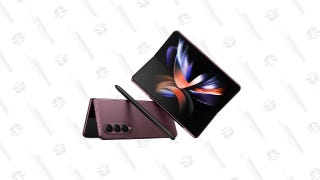 Save Up to $300
Galaxy Z Fold4
"If no one was going to stand up for us, we stood up for ourselves," Day Day says at one point in the documentary. "It's a survival thing… When a call comes along, we are there for each other."
Violence is present in the film, but directors Dana Flor and Toby Oppenheimer are sensitive and nuanced in their portrayal of that violence. Steering clear of exploitation, the filmmakers are careful to note the host of systemic issues—mass incarceration, the lack of employment opportunity for trans women of color, the disproportionate rates of LGBTQ homelessness—that created a necessity for a group like the Check It to exist in the first place. Gang violence is obviously a problem, the film freely acknowledges, but it's a symptom of a much larger set of issues and not a root cause in and of itself.
"Just being black, you have a lot of odds against you," Ronald "Mo" Moten, the commissioner of D.C. Congresswoman Eleanor Holmes Norton's Black Men & Boys Commission, says in the film. "Being gay and black? That's a whole different ball game… They don't have anybody, so they lean on each other. That's what a gang can be. It's a family when nobody else was there."
But Check It—which is still an acquisition title and is not yet slated for release—is about more than just hardship and strife. It's also about friends dancing all femme at a go-go show, daring anyone to challenge them on their femininity. It's about setting off fireworks on the Fourth of July. It's about killing time on a hot summer day when you're bored at home with your friends. It's about Day Day finding out that a pack of cigarettes costs $15.50 in New York and muttering what might be the greatest one-liner in the entire film ("Bitch, you better go jump off a bridge") as he slowly turns to face the camera.
The documentary also explores what happens when passionate, creative people are finally given the opportunity to put their passion and creativity to use. A gym owner named Duke takes Skittles under his wing and teaches him to box so that the young man can "at least get paid" if he's going to fight. Other Check It members—including Trey, Day Day, and Alton—attend a fashion design camp run by makeup artist and stylist Jarmal Harris. At the end of the program, Trey and Day Day are selected to assist Harris at New York Fashion Week, which is where they watch, in awe, as the aforementioned pair of fashionable, middle-age black men make their way to some runway show or other.
Since that brush with the fashion industry two years ago, the Check It have launched their own line of clothing, available at checkitenterprises.com. The profits help fund their intended transformation from a gang to a "positive for-profit enterprise" that fosters support and provides mentorship to young people in their community "so we no longer have to commit petty crimes to survive." In other words, possibility led to opportunity, and that opportunity opened up a whole new world of possibility for the Check It.
Throughout Check It's 90-or-so-minute run, I kept thinking back on Laverne Cox's idea of a "possibility model." She doesn't want to view herself as a role model, she told Katie Couric back in 2014, but as a model of what is possible for people like her, people who are not likely to see themselves represented positively in the media—if at all.
I asked the stars of the documentary if this idea of a "possibility model" resonated with them when we met at the film's press office in Chelsea the day after the premiere. How did it feel to know that they might act as a possibility model for young black LGBTQ viewers who come from marginalized communities like themselves?
"Yeah, Laverne Cox and D. Smith from Love & Hip Hop: Atlanta say stuff like that," Trey said. "'I don't want you to be like me,' you know? 'You can look up to us, but don't be us.' I don't want people to be like us. They don't have to go out and form a group just to survive… I just want them to learn from our story… I just want them to know that there is a way out."
Watch the Cakes Da Killa-soundtracked trailer for Check It below.
Bad at filling out bios seeks same.