On Wednesday morning, a group of activists began a remarkably detailed prank in Washington, D.C that incorporated physical copies of a fake Washington Post newspaper and an entire fake website populated with over a dozen satirical articles claiming that Trump would leave office on May 1.

In a subsequent blog post, a group of activists and the "trickster collective" The Yes Men claimed responsibility for the post. Author Onnesha Roychoudhuri, one of the project's organizers, confirmed the group's involvement in an email to Splinter.
The depth of the stunt, honestly, is impressive. People started noticing the prank when a woman reportedly began passing out physical copies of the paper near Washington, D.C.'s Union Station on Wednesday morning.
G/O Media may get a commission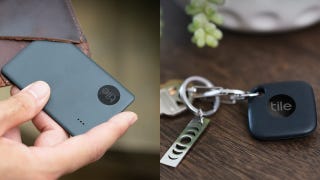 Up to 35% off
Tile Item Trackers
There's also a companion website, www.my-washingtonpost.com, which clearly took a LOT of effort to set up.
Besides jokes in the source code, the fake paper's website is wild. Links on the homepage go to actual, full-length satirical articles, most of them about Trump vacating the office of president. The lead article, headlined "UNPRESIDENTED," is dated May 1, predicting (satirically) that the president will leave office in four months.
Here's the lede:
THE CAPITAL — On May 1, barely six months after the midterm elections, Donald Trump appears to have abandoned the White House and abdicated his role as president. He issued no formal statement, though four White House aides — who spoke on the condition of anonymity — claim they found a napkin on the president's desk in the Oval Office on the evening of April 30, scrawled in red ink with the following message: "Blame Crooked Hillary & Hfior & the Fake News Media."

There's also an article titled, "Fictional Washington Post eerily predicted real events," which, here, read this snippet:
While the contents of the fiction paper included some humor — referring to President Pence as a "clipped duck" and imagining "sticky scenes of chaos" when women protesters took over Congressional offices with small children in tow — it was notable for its fact-based approach.

"You couldn't really call this fake news," said media analyst Monika Krishnaya, pointing to the paper's accounts of actual protests and direct actions that had taken place since Trump's election. "This fantasy, if you will, wasn't fake news; it's pre-real news. It's a clear story about a future that could and must be.

"At this point, since it turned out to be so close to reality, I guess we really can't call it fiction at all."
The fake paper also devoted two articles to a "bundle" of 64 bills it claimed would change America, which were devoted to overtly progressive causes like Medicare for All and a Green New Deal. There's also a satirical video called "Coffee With a Scholar," an interview during which the "scholar" gets push alerts that Trump has resigned.
In case the links to the actual site go down, here's an archived version of the site. Weirdly, the Wayback Machine at the Internet Archive also has a snapshot of the url www.my-washingtonpost.com from 2002, when it appeared to exist as a graphic anti-abortion site. It seems unlikely the two are connected; URLs can be bought or sold or expire if someone stops paying for them.
What's interesting about the satirical site is that the banner links at the top of the page—that go to WaPo subscription tools and sign-in links, as well as the paper's individual sections—redirect to the actual Washington Post.
The real paper, for what it's worth, is on it.
I reached out to an email address listed below the byline for one of the articles to ask what the hell was going on, and got a response from the stunt's organizers, Onnesha Roychoudhuri and L.A. Kauffman.
Kauffman was one of the activists handing out papers in person on Wednesday morning:
Roychoudhuri directed me to the aforementioned blog post by The Yes Men, a "trickster collective" who participated in the project, which has more information:
"The story this paper tells is more reasonable than our current reality," says author Onnesha Roychoudhuri, who created the paper together with author L.A. Kauffman and trickster activist collective the Yes Men. "And it's anything but far-fetched. We're already seeing unprecedented levels of protest and resistance. Now we just need to ask ourselves: What's next? This paper offers a blueprint to help us reclaim our democracy."
I sent some follow-ups to Roychoudhuri, I'll update this post when she or Kauffman get back to me.
Update, 2:10 p.m.: I spoke briefly with Roychoudhuri, one of the organizers of the campaign. She said that the main goal was to "offer a vision of an alternative world that is rooted with what's happening on the ground," and to encourage people who haven't "thought of themselves as political" or being on the "front lines of the resistance" to keep protesting, organizing and acting.
Roychoudhuri said that the campaign's intention was not to deceive, and that when she, Kauffman, and the Yes Men were planning the project, they discussed the struggle with "fake news" and how the fake paper would be received.
"The intention of this paper is not to trick people," she told Splinter. "If you look at the front page, it's dated May 1, there's playful details throughout. The goal is not to make someone feel fooled, it's to make them say, 'Oh wait, what if that were true?'... There is a difference between outright lies and deception and vision and dreaming, and I feel like what we're doing is very clearly the latter and not the former."
Roychoudhuri said that the Yes Men had assured them that legally, the stunt would be "on the up and up," and that they'd done large campaigns like this before. As of about 2:05 p.m. Eastern, the site was down.
I'll update the blog again if the Post pursues legal action or issues any further statements.