There's a scene in The Devil Wears Prada (yes, I know this is cliché, but hear me out) where Miranda Priestly says "you're wearing a sweater that was selected for you by the people standing in this room [the Runway offices]." In 2006, that statement was fairly accurate; magazines were booming and social media barely existed.In 2015, that statement wouldn't be true. Magazines no longer dictate trends, the internet does—especially the cool kids on Tumblr and Instagram.
Last week, Givenchy's designer Riccardo Tisci announced that he was doing something that hasn't been done before—opening his first Spring 2016 New York Fashion Week show—which will include a collaboration with Marina Abramović and take place on an undisclosed street in New York City—to the public. Fashion week is historically known to be an invite-only affair, but Givenchy, one of the most highly anticipated shows, allowed 410 people (and a guest) to sign up to receive invites to the September 11th show, with additional invites going to 280 fashion school students, and 100 residents who live near the show venue.  Tisci told Women's Wear Daily: 

"You know, fashion is amazing and very exclusive. But [I've long thought] one day I would love to do a show where anybody—which is the reality—could be a part of it."
This is a big deal, but it isn't the first time a fashion show has utilized a public space for a runway show. In June, for Men's Fashion Week in Paris, Givenchy revealed the location of their show, which was near a public park, on Instagram, indirectly inviting onlookers to get a glimpse of the collection. Fellow early-adopter fashion brands Gucci and Hood by Air have also done the same thing, staging a runway show on a blocked off street and at La Philharmonie de Paris, respectively. And in 1989, Maison Martin Margiela's Spring 1990 show took place at a children's playground. Though the major difference between these shows and Givenchy's upcoming Spring 2016 show is intentionally  connecting with the public versus using outsiders as background noise for an experimental fashion show location.
Another way outsiders have gained access to fashion shows has been live-streaming. Givenchy has also set up six locations for the public to gather to view live-streams of the upcoming show. But, it started with NOW Fashion streaming Alexander McQueen's Spring 2010 show, Plato's Atlantis. Prada, Marc Jacobs, Louis Vuitton and other brands then followed the trend and let people all over the world partake in something usually reserved for a select group of editors, buyers, celebrities, socialites and, in recent years, fashion bloggers. It has allowed none fashion insiders to capture moments like the step team performance at Rick Owens' Spring 2014 show; Louis Vuitton's final show with Marc Jacobs as the creative director; and Kanye West's first collection with Adidas. Recently, the video app Periscope has become a new source for streaming; this NYFW season, Ralph Lauren, following in the steps of Burberry, dunhill and Belstaff, will broadcast its fashion show for London using it.
G/O Media may get a commission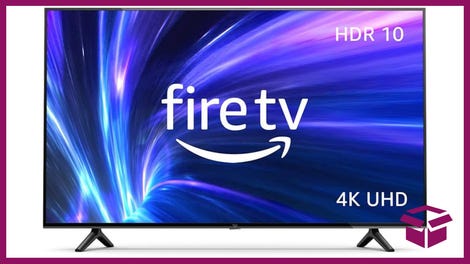 42% Off
Amazon Fire TV 50" 4K Smart TV
Designer collaborations with fast fashion brands in actuality might serve as just a marketing ploy for both Topshop, H&M, Target, Uniqlo, and their respective high-fashion partnership, but again, that trend has allowed both fashion people and non-fashionistas to get their hands on exclusive, limited-supply items from designers like Alexander Wang and Balmain—connecting with the brand on a tangible level.
Instagram has become a source for casting models. Marc Jacobs used it to cast models in two advertising campaigns and W Magazine partnered with IMG to do its first-ever model search while Nicopanda featured Instagram It-kids in their latest fall campaign. IMG even has its own Instagram account, @weloveyourgenes, dedicated to finding undiscovered models on the social media sphere. In an interview with The Cut, AM Casting director Noah Shelley said:

"It's very hard to discover raw talent on the street anymore. I find that my time is better used if I actually spend four or five hours on the internet or on Instagram than spending four or five hours walking around in the snow."
The social media boom has quickly changed the way the fashion industry works, forcing it to be inclusive and somewhat more accessible. But, is fashion's move towards inclusivity genuine? Not exactly.
It's inevitable that brands connect with the people that are both driving their revenue and giving them inspiration. The cool kids who are anxiously checking their inbox to see if they got confirmation for the Givenchy fashion show are the same ones who are in some way influencing the trends going down the runways. Balmain's 29-year-old creative director Olivier Rousteing told Glamour UK earlier this year:

"My inspiration is my generation. It's not about creating a fantasy of another time or place, but about what's around me."
The catch is while the industry continues to welcome die-hard fashion fans, there can't be genuine inclusion without representation, which it continues to lack. Tokenism is still heavily practiced in depicting models of color, different shapes and gender on the runways, in fashion campaigns and magazines.
In the last few years, fashion has been gradually working to close the diversity gap. Ironically, with the help of the internet and those who are misrepresented using it as platform to call out what needs to change and the outspoken fashion insiders who are actually listening.
It seems like designers are casting more models of color and last season we saw a rise in Afros on the runways with models Lineisy Montero in Prada and Karly Loyce in Céline. Transgender models have also been gaining more representation. In May, Hari Nef became the first transgender model to be signed to IMG and  Apple Model Management, which opened last month, is the first modeling agency to represent only transgenders. Gender-neutral fashion is becoming more common with brands like Eckhaus Latta, Hood by Air, Nicopanda, and Telfar following in the footsteps of Comme Des Garçons and defying the preconceived idea of what it means to be masculine or feminine. Plus size models are continuing to push boundaries in spaces that don't normally make room for them like Vogue (which featured an all plus-size model lingerie online editorial), fashion advertising campaigns (like H&M and Timberland) and modeling agencies (Tess Holiday became the first size 22 model to sign with a major agency). Recently, Lane Bryant has re-branded and become one of the leaders in the conversation about body positivity; outspoken campaigns like #imnoangel and #plusisequal, aimed at calling out unrealistic beauty expectations and showcasing models of all shapes and sizes.
There's so much progress being made. Inviting everyone into what was previously such an enclosed circle is a great start. But: People don't feel welcomed unless they can see themselves represented in these spaces, as well.
Related: These gorgeous fashion week models are completely changing the way we think about gender
Tahirah Hairston is a style writer from Detroit who likes Susan Miller, Rihanna's friend's Instagram accounts, ramen and ugly-but cute shoes.