When the Nebraska legislature voted to ban the death penalty last year, criminal justice reformers around the country hailed it as a milestone. But in November, voters will get their say on the issue in a referendum, deciding whether they want to keep the ban in place or bring back capital punishment.
With less than four months until the vote, the campaigns on both sides of the issue are starting to heat up. The committee supporting the death penalty ban released a powerful new ad yesterday featuring an exonerated death row inmate telling his story. It's a model of a persuasive argument against the death penalty—and a sign that elections in Nebraska and California over capital punishment this year will be closely fought.
Kirk Bloodsworth was convicted of raping and murdering a nine-year-old girl in 1985. He spent nine years on death row before being released thanks to what was then a new technology: DNA evidence. He was the first death row inmate in America to be exonerated based on DNA.
"When they slammed that 300-pound door shut, my life was over," Bloodsworth, a former marine, says in the ad. "You could free a man from prison, but you cannot free him from the grave. You can not un-execute someone."
G/O Media may get a commission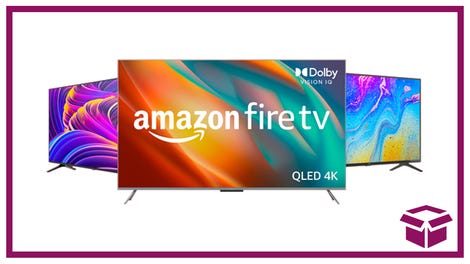 Ooh. stunning.
New Amazon Fire TVs
"If it can happen to an honorably discharged marine with no criminal record or criminal history, it could happen to anybody in America," he adds.
Around the country, there are 156 people who have been exonerated and freed from death row.
Bloodsworth told me in a phone interview that when the Nebraska legislature approved the ban, "I actually got up and cheered." He said that campaigning in favor of the ban was "an obligation to humanity that I make. I am a witness to the fact that we can execute innocent people with our criminal justice system."
The ban was approved by the legislature, which overturned a veto by the state's governor. A ballot campaign then gathered 166,000 signatures opposing the death penalty repeal, enough to block the law from going into effect and launching the referendum. It will be the first time that Nebraskans vote on the death penalty in a referendum. While the death penalty has been legal in Nebraska since 1976, the state hasn't executed anyone for nearly 20 years.
Dan Parsons, the communications director for Retain a Just Nebraska, the campaign that produced the ad, said they planned to have more TV ads running through election day. Starting next week, the campaign will hold a statewide bus tour of exonerated death row inmates and families of murder victims who will argue in favor of the death penalty ban. They're also bringing together religious leaders from different congregations to campaign for them.
Parsons, a conservative Republican strategist, predicted that the election could cut across typical partisan divides. "I worked for the Attorney General who carried out the last three executions in the state," he said. "I changed my heart and mind on this issue."
But the campaign will likely have a tough hill to climb. Chris Peterson, a spokesperson for the Nebraskans For the Death Penalty campaign, said his group had conducted several polls, including last month, that had consistently shown voters favoring the death penalty by about a two-to-one margin, although he declined to release polling data backing that up. (Parsons, who also declined to release his side's polling data, called those results "wishful thinking." An ACLU poll in 2015 found that 58.5% of Nebraska voters favored alternatives to the death penalty.)
Peterson also said Bloodworth's ad wasn't relevant in the state. "This gentleman is not a Nebraskan and this is not a case from Nebraska," he said. "In Nebraska, the death penalty has been used sparingly, only in those cases where someone or a group of people have committed the most heinous of crimes."
Recent, comparable fundraising numbers for the two groups are not yet publicly available, according to state records. Peterson said his group will also air TV ads before the election.
Nebraska isn't the only state where voters will have a say on the death penalty this year. A referendum to repeal capital punishment will also be on the ballot in California, which currently has 747 inmates on death row. (A competing ballot initiative would reform the death penalty process to speed up executions and make it easier to execute inmates.)
The last time California held a referendum on the death penalty, in 2012, voters narrowly rejected a capital punishment ban, 52% to 48%.
Sharing the personal stories of exonerated death row inmates could be a powerful way to change the minds of death penalty supporters. "It's time for somebody to stand up against it," Bloodsworth told me. "We have enough problems in the world without creating more death."
Casey Tolan is a National News Reporter for Fusion based in New York City.