Comedy nerds around the world had reason to rejoice last Friday: W/ Bob and David premiered on Netflix. The show reunites the stars—Bob Odenkirk and David Cross—supporting cast, and writing staff of Mr. Show With Bob and David, the cult-favorite sketch comedy series that aired on HBO in the late '90s. For the most part, the reboot (if you can call it that) is as delightful as the original.
As a fan of reality cooking competitions, one sketch in particular stood out to me. On Shark Kitchen (seen in the third episode), several chefs must prepare unusual ingredients before a panel of judges: a premise that not only borrows from Chopped, but gets at a weird, unspoken tension at the heart of the long-running Food Network show.
If you've seen Chopped, and of course you have, you'll remember that host Ted Allen invariably asks each contestant what brought them to the show. Their reasons vary wildly. Some talk of opening their own restaurant or taking a vacation with the $10,000 prize. On the other end of the spectrum, many chefs cite overcoming illnesses, addictions, and other personal hardships—and, in doing so, make that guy who just said he wants to go on a cruise look like a real jerk. I once saw an episode where a contestant describing his battle with cancer was cut off by another competitor eager to announce that she, too, has cancer. Shit gets real on the Food Network.
But back to W/ Bob and David. Chef Greg (Bob Odenkirk) is the first to share his upbeat motivation for appearing on Shark Kitchen: "Well, I just love food and I want to show everyone that single dads rock."
G/O Media may get a commission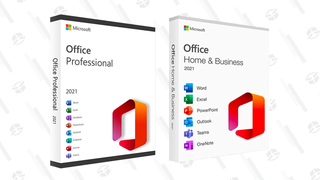 89% off
Microsoft Office Professional 2021 Lifetime License
But the second contestant, played by Brian Posehn, strikes a decidedly more somber tone in his introduction: "We lost everything in Hurricane Carmel and it's really important to me to show my kids that you can persevere through any hardship, and that material possessions don't mean anything when compared to family love."
Huh. Okay.
But leave it to the third chef (Mary Lynn Rajskub) to outdo them all: "Well, guys, guess what? I'm deaf. I'm here to prove to deaf people everywhere that we can cook too. And also to all the little girls out there who are deaf, if you believe in yourself, you can do anything!"
Greg grows increasingly desperate to appeal to the judges, announcing that one of his daughters is "a little slow, too," his ex-wife is legally blind, and more transparent ploys for sympathy. Just like a Chopped mystery basket, it's deliciously uncomfortable.
Molly Fitzpatrick is senior editor of Fusion's Pop & Culture section. Her interests include movies about movies, TV shows about TV shows, and movies about TV shows, but not so much TV shows about movies.