A strange, huge, basically unbranded phone has caught on in Ghana, technologist Emmanuel Quartey reports from Accra.
People simply call it "power bank phone" or "the big black phone." And it is so bulky, you almost can't believe anyone would buy it in the era of the slim, elegant smartphone.
But this device has a secret. It's actually two things in one: a simple phone (with some poorly performing apps installed on it) and a battery pack for charging other things ("power bank").
In other words, this is a backup phone that can charge your other phones. "Ghana is currently experiencing a severe power crisis," Quartey writes. "City-wide blackouts of 36 hours or more have become the norm in the capital, and a brisk business has grown around selling power banks, which are small portable rechargeable batteries that can be used to charge small electronics such as MP3 players and, yes, phones."
It can also store up to three SIM cards and comes with an LED light. Put it all together and you have a phone that's been ruggedized not for drops, but for failures of the rest of the technological system.
G/O Media may get a commission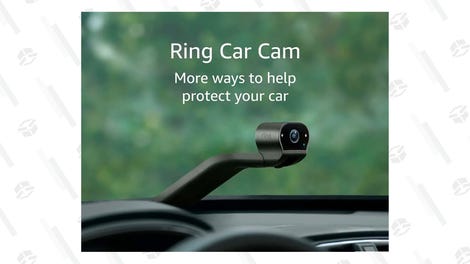 That is to say, the phone's main feature is resilience.
While the appeal of the phone may be more obvious in Accra than Annapolis or Anaheim, power management has become the most tedious and anxiety-inducing part of our current technological system. Batteries just aren't getting better as fast as all the other tech inside our phones. The aesthetic pleasure of the iPhone comes in part from Apple's shrinking its battery, but I have to compensate for that sleek design. I now schlep two to three chargers (watch, phone, computer) with me wherever I go, not to mention a backup battery brick. Plus, my phone is wrapped in a case containing an extra battery.
Everyone you see with a big, fat Mophie case doubling the size of a slim iPhone has come up with the same solution as the people buying the Ghanian brick. When your phone becomes your primary computing device, its appearance starts to matter less. Your primary concern is simply keeping the damn thing going, and the physical fact is that a bigger battery is a more capacious battery. One research firm already predicts that the portable power bank market will be almost $11 billion by 2020.
Perhaps "the big black phone" won't be an innovation that catches on in the United States. But one wonders whether Accra or India's huge, blackout-prone cities might be the breeding ground for radical new ideas about how to manage power. People there are experiencing the most extreme version of the daily, global struggle to keep our digital lives humming.
And here's the other part of it: it's getting cheaper to experiment with new solutions to this problem. There are so many companies making chipsets that can be packaged into phones that "you don't really need to know anything about cellular technology to make a phone anymore," Ben Evans, an analyst at the venture capital firm Andreessen Horowitz, told me this weekend.
Put the increased need and decreased cost together and you just might see an explosion of new power-management ideas coming out of the places in the world where there is high mobile penetration and low (or unstable) access to electricity.