Imagine this scene: It's summertime, and you're hanging with your buds on a rooftop somewhere, listening to indie rock and enjoying the sunshine. You reach for a summer cocktail — something cool and refreshing.
What do you grab? The Anheuser-Busch corporation has an idea!
On the Budweiser website, the multinational beverage conglomerate has posted a recipe for a consumable summer beverage called the "Jack of All Trades Cocktail." It is, upon cursory inspection, the laziest, most unappealing cocktail recipe I have ever come across.
What ingredients go into a Jack of All Trades Cocktail? Let's go over them one-by-one.
G/O Media may get a commission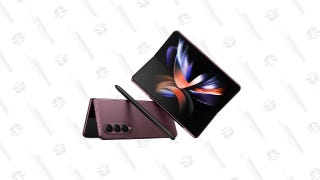 Save Up to $300
Galaxy Z Fold4
First up, we've got a Lime-A-Rita, a sugary lime-flavored margarita beverage produced by the Anheuser-Busch corporation. Sounds acceptable, as the base to a cocktail, I guess. Surely this can be livened up and balanced out with the correct complementary ingredients. What else do we need?
Interesting. A Straw-Ber-Rita, which is a sugary, strawberry-flavored margarita beverage produced by the Anheuser-Busch corporation. Mix the sugary strawberry-flavored malt beverage with the sugary lime-flavored malt beverage in equal parts. Fine. Surely the natural ingredients — ones that are not malt beverages that have been artificially flavored and weirdly-hyphenated by the Anheuser-Busch corporation — will come next.
A Mang-O-Rita? Seriously? Hold on, I need to go back to the beer aisle. After I got the Lime-A-Rita and Straw-Ber-Rita, I figured I was done with the Budweiser products. But now, against all my better instincts, I have mixed the Lime and the Straw-Ber and the Mang-O together. They are mingling in my punch bowl like homemade poison.
What joins them next?
Are you kidding me? RAZ-BER??? Is a Raz-Ber-Rita even a real product? If so, we've got 32 ounces of fruit-flavored, artificially-sweetened Budweiser now. This is a cocktail you would make if you were locked in a Budweiser factory and these were LITERALLY your only options. Any further Budweiser products in this cocktail would represent INSANITY.
SERIOUSLY??? In addition to one can of Lime-A-Rita, and one can of Straw-Ber-Rita, and one can of Mang-O-Rita, and AN ADDITIONAL can of Raz-Ber-Rita, we are now going to add a FULL CAN OF LIME-FLAVORED BEER???
The Jack of All Trades Cocktail sounds like a concoction you would make a fraternity pledge drink as part of a cruel initiation ceremony. Mercifully, this is the end of the ingredient list. The masochists who dreamed up this cocktail did not also make you pour in a Bud Heavy, or a twelve-pack of Rolling Rock, or an entire keg of Johnny Appleseed cider.
They do, however, have an idea for a garnish.
You see? It's not just 40+ ounces of colorfully-named Budweiser products. It's garnished with a half wheel of lime.
At this point, you may be wondering: How can I, amateur bartender, combine these ingredients and present them in a way that would be palatable for my friends?
Serve it in a mason jar. You live in Brooklyn, right?
(Ideally, you would enjoy this cocktail out of a bathroom sink, since seconds after drinking you are going to need to vomit in the toilet. But if you have mason jars, go for it.)
As a final prank, the Budweiser website offers a photo of what an ideal Jack of All Trades cocktail might look like.
You will observe that, despite the presence of actual raspberry, mango, lime, and strawberry in this photograph, none of these natural fruits have been included in the recipe. The lime wedge is included as a garnish, of course, but let's be honest: You just poured five cans of Budweiser products into a punch bowl; you're not the kind of person who's about to cut up some fresh limes for your guests.
"This drink sounds like an amazing way to die," my friend said, when I showed him the recipe for this cocktail. He is wrong: The Jack of All Trades Cocktail would be a horrible way to die.