Last Thursday, Jarred Walls was at lunch with his partner and two children in a suburb of the Australian city of Perth when he overheard the two elderly women sitting next to him making disparaging remarks about Aboriginal (Australian indigenous) people.
"When a conversation starts out as 'I'm not racist, but this is how they got into power, because of the color of his skin', it's not the most positive kind of conversation you're hearing. It spiraled from there in terms of lots of talk about Aboriginal people and what we do and generalizing things," Walls, a 31-year-old Aboriginal man, told The West Australian, a local newspaper.
What he did next was a quiet but pointed rebuke: he sent the two women a pot of tea, with a note that read, "Enjoy the tea! Compliments of the 2 aboriginals sitting next to you on table 26 :)".
He posted a photo of the bill for the tea he sent over and talked about the experience on Facebook, writing, "I could have unleashed a tirade of abuse but that wouldn't have helped. Instead, I did something nice and bought them a pot of tea and left a little note on the receipt. Maybe these ladies will be a little wiser and think before they speak. Hopefully there won't be a next time! #blacklivesmatter #englishbreakfasttea"
Walls went on to tell the paper, "If I had of gone over there and blasted them and said whatever there is to say, I don't think that would had much of an impact, it probably would have solidified their views. I didn't want to just sit there and say nothing–that's how nothing changes."
G/O Media may get a commission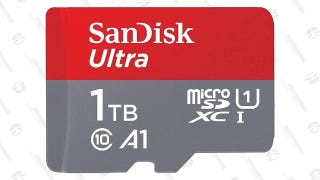 Save $75
SanDisk Ultra 1TB MicroSDXC Card