It's a pretty damning indictment about the state of America in 2018 when it takes the school shooting death of a beloved substitute teacher to draw attention to her husband's crowdfunding campaign to raise money to pay for a lifesaving medical treatment, without which he'll die within a year.

That, unfortunately, is exactly what has happened with the GoFundMe page set up by William Tisdale over a month ago, in the hopes of raising the cash to pay for the necessary stem cell treatment for his father Recicie Tisdale, who is suffering from a chronic lung disease called idiopathic pulmonary fibrosis. In a horrifying turn of events, William's mother, Cynthia, was killed in the mass shooting at Santa Fe High School in Texas last Friday. The nation's healthcare crisis and its gun crisis have come together, again.
Since then, donations have been pouring in to the page, where Recicie Tisdale wrote just last month:
With the procedure I have a chance for more time with your momma (my wife of 47 years), my children, and my wonderful grandchildren who I so much want to see grow up as much as possible. I fear without this I won't make it to see 2019.
Cynthia's death, however, had thrown her husband's hopes for medical care into jeopardy—until hundreds of people began donating money to what otherwise would have simply been one of the thousands of crowdfunding campaigns that have become a de facto response to America's immoral healthcare system.
"I apologize for not keeping up with updates to everyone we have had such a rough year with my dad getting this disease, the flood ruining our homes, and my mom being wrongfully and unfairly murdered," William wrote in an update to the page posted late Sunday evening. He continued:
I want you all to know we are so shocked and blessed you all have reached out and tried to keep giving my dad something to live for. It was hard for him to fight before and now losing my mom has made it unbearable but every little notification on his phone gives him a chance at something. Thank you all so much.
G/O Media may get a commission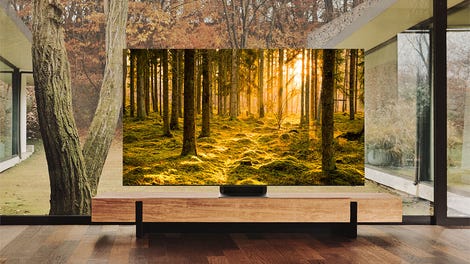 Up to 40% off
Samsung Smart TVs
In a second update posted just hours after that, William offered an even more optimistic—if bittersweet—prognosis for his father.
We are still in such disbelief that anything good can come out of such a horrific event...my mom always made good come out of bad situations though and this is no different for her. The amount of love and generosity our family and father is receiving is unimaginable. We don't know how to put it all into words but thank you doesn't give it enough justification. With that said we raised the goal for funeral costs, bills, and possible lung transplant with second dr that we never thought was an option financially or because of receiving a no the first time...he is very blessed and after we start to find our new normalcy somewhat we will sit down and get the stem cell treatment hes been waiting and hoping and praying for thank you all again so very much!
As of Monday morning, nearly a thousand people had raised more than $30,000 for the Tisdale family, with no sign of the donations stopping anytime soon.
But while it's heartwarming to watch friends, family, and strangers alike rally around a family in need, consider how much more heartwarming it would be if we lived in a country that actually provided comprehensive and affordable medical care, and there wasn't a plague of gun violence which caused teachers to risk their lives simply by showing up in their classrooms.