Unless you count TMZ's ambush of Brandon Jennings or Nick Young, we haven't seen an NBA player publicly pledging their support for 49er's quarterback Colin Kaepernick kneeling during the National Anthem—until last night, when Milwaukee Bucks forward Jabari Parker posted this photo on Instagram.
"Never followed the wave but this one is necessary," Parker wrote. "I got your back homie @kaepernick7"
Parker recently penned an essay about (among other things) inequity in Chicago's public education system for the Players Tribune, so this isn't his first dip into the world of social justice.
"It's only been a few years since I left, but Chicago isn't the same city anymore. It's worse. A lot worse," Parker wrote. "Nearly 50 schools closed in Chicago in 2013, mostly in neighborhoods like mine, with primarily black students from low-income homes."
G/O Media may get a commission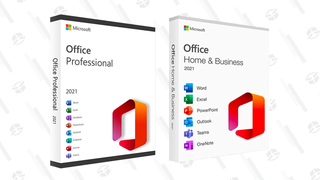 89% off
Microsoft Office Professional 2021 Lifetime License
It is notable, however, that Parker is the first professional basketball player to come out in support of Kaepernick specifically. Parker isn't some scrub; the 21-year-old was picked second in the 2014 NBA draft and averaged more than 14 points a game for a promising Bucks team last year.
It's the middle of the NBA offseason, so that likely explains the league's collective silence. Parker's display of support, then, may be a harbinger for an NBA season full of similar gestures. After all, the NBA is—by far, at least recently—the most socially conscious major American sport.
Michael Rosen is a reporter for Fusion based out of Oakland.