Last night, Americans made a stunning choice: to elect Donald J. Trump to be the next president of the most influential nation on the planet. The rest of the world looked on in horror at the future of international relations and human rights. Here's how different parts of the world reacted to the news and how different countries' leaders reacted:

Europe
The words "shock" and "nightmare" were trending in Germany in the wake of the news, according to the Washington Post. German Chancellor Angela Merkel released a statement reminding Trump of the "shared values" of Germany and the U.S.

"Germany and America are bound by their values: democracy, freedom, respect for the law and for human dignity, regardless of ancestry, skin color, religion, gender, sexual orientation or political leanings," she said in her statement. "On the basis of these values, I offer the future president of the United States of America, Donald Trump, close cooperation."
For many European politicians, there's a sense that Trump's foreign policy might be unilateral and unpredictable. In France, President Francois Hollande said Trump's election "opens a period of uncertainty. It must be faced with lucidity and clarity."
G/O Media may get a commission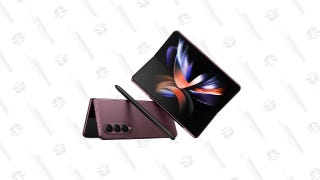 Save Up to $300
Galaxy Z Fold4
The European Union invited Trump to an emergency summit to urgently discuss U.S.–EU relations. Some members of the EU parliament saw the news as a sign that that the EU needs to be wary of right-wing extremism on its own shores. EU foreign ministers are also planning a meeting this weekend to discuss what a Trump presidency could mean for their nations.
British Prime Minister Theresa May congratulated Trump in a statement today: "I would like to congratulate Donald Trump on being elected the next president of the United States, following a hard-fought campaign," she said. May has been critical of Trump in the past, including last year when Trump said there are "no-go" parts of London because of Muslim immigrants.

Asia-Pacific
In Japan, Prime Minister Shinzo Abe cautiously congratulated Trump. "The stability of the Asia-Pacific region, which is the driving force behind the world economy, provides the United States with peace and prosperity," he said. That might be because his electorate was largely against Trump, according to a South China Morning Post poll taken in the lead-up to the election, which found that 88% of Japanese voters surveyed supported Hillary Clinton.
Trump received a phone call from Chinese Premier Xi Jiping shortly after declaring his victory. But Trump has threatened to increase tariffs on Chinese imports, and Chinese leaders see him as more of a wild card than Hillary Clinton, who they knew and dealt with in her capacity as Secretary of State.
Indian Prime Minister Narendra Modi, who shares some far-right ideology with Trump, including Islamophobic rhetoric, called to express his delight at Trump's victory. Trump's campaign elevated a small but vocal minority of Hindu nationalists in the U.S., who support both Trump and Modi.
In Australia, Prime Minister Malcolm Turnbull, who's been internationally criticized for his country's inhumane asylum seeker policies, sent a message of support to Trump, highlighting "shared common interests" of the two nations. "The bond between our two nations, our shared common interests, our shared national interests, are so strong, are so committed that we'll continue to work with our friends in the United States through the Trump administration," he said in a statement.
The Americas
And in Mexico, President Enrique Peña Nieto congratulated the U.S. rather than congratulating Trump directly, but said he will work with Trump for bilateral relations. Peña Nieto was criticized in Mexico after receiving Trump for a visit in September. Soon after that visit, Trump claimed the Mexican president had agreed to pay for a wall at the border, a claim Peña Nieto immediately denied. The Mexican peso has dropped 20.2165 pesos per U.S. Dollar this morning, its lowest rate ever, according to Reuters.
This morning Canadian Prime Minister Justin Trudeau broke his silence on the U.S. election, saying he'll work with the Trump administration on trade and security. "The relationship between our two countries serves as a model for the world," he said. One issue Canada will be watching is the construction of the Keystone Pipeline XL, which runs from Alberta in Canada to the U.S. Trump has suggested he could be in favor of the pipeline.

The Middle East
After having been critical of Trump's Islamophobic policies during the campaign, Turkish President Tayyip Erdogan said he hoped for an emphasis on development and stability in the Middle East.
Israeli Prime Minister Benjamin Netanyahu called Trump "a true friend of the State of Israel" in his congratulatory statement, despite accusations of anti-Semitism that have been leveled against Trump's campaign and his American supporters over the course of the past year. Netanyahu has said that a Trump victory will mean the end of any negotiations over a Palestinian state. Trump himself has said that he will be "neutral" on Israel and Palestine.
Palestinian Authority President Mahmoud Abbas congratulated Trump and expressed his hope that Trump would broker a lasting peace deal, according to the Times of Israel.

Africa
The first international leader to call and congratulate Trump, according to Bloomberg Politics, was Egyptian President Abdel-Fattah El-Sisi, who said "Egypt hopes the presidency of Donald Trump will inject new life in Egyptian-American relations."
Liberian President Ellen Johnson Sirleaf, a Nobel Peace Prize winner, said the country would continue to have positive relations with the U.S. but, she said, "We are extremely saddened by this missed opportunity on the part of the people of the United States to join smaller democracies in ending the marginalisation of women."
Uganda's Yoweri Museveni, who has been accused of arresting opposition members and ballot fraud, issued this statement of support for Trump: "I congratulate Mr. Trump on his election as the President of the United States of America. Elections in the U.S. or any country are a matter for the people of that country."
The handful of politicians globally who seemed to be really celebrating a Trump presidency included Brexit proponent Nigel Farage, Zimbabwean dictator Robert Mugabe, and right-wing nationalist leaders, including France's Marine Le Pen, The Netherlands' Geert Wilders, and the Russian parliament.
For the rest of the world, the reality might still be sinking in.