This Thursday, at sundown, the Jewish holiday of love will begin. Tu B'Av (in Hebrew, the fifteenth of the month of Av) is comparable to Valentine's Day, though lesser known, and less pagan. The holiday holds special significance for a small group of New York City matchmakers: the men and women of YentaNet, who have been given as their first challenge the directive to pair up a couple before sundown on the 30th.
The service is, in many ways, very progressive. It's open to lots of different types of Jewish people, and does away with a lot of the trappings of traditional popular dating sites. But it's also fairly traditional: YentaNet asks users to date just one person at a time, and takes on the mission of bringing Jews together to secure a future for the religion.
YentaNet's founder, Raysh Weiss, has been acting as an informal Jewish matchmaker for years. She noticed a real need for the service when she moved to New York in 2012: "I realized I would need the help of others to take on this project," she told Fusion in an email. She launched the service formally last year.
Unlike dating apps, YentaNet doesn't ask potential daters to write online profiles. Weiss explains that match candidates can, at this point, connect with YentaNet through their Facebook page or their website to schedule an intake meeting with a matchmaker. After spending some time together, the matchmaker looks for someone, either on her list or a fellow matchers', who she thinks would make a good fit for the candidate.
"A couple is then introduced," Weiss said, "via an introductory email or in person, and then they meet up in real life. We do not do much follow-up unless the match candidates specifically request we do."
G/O Media may get a commission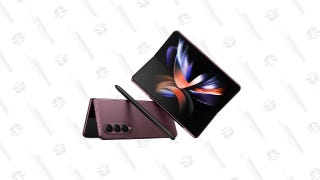 Save Up to $300
Galaxy Z Fold4
For now, the service is free of charge — though Weiss does request that couples who hit it off pay for another's first date, as a means of "paying it forward" — but couples are expected to date only the person introduced to them via YentaNet unless they decide to break it off. This method of "slow dating," is described by Weiss as "very counter cultural."
"It very much goes against the current NYC dating standard of seeing multiple people at once and rifling through online profiles based on one 'wrong' word or image we see," she said.
If that strikes you as conservative, you're not alone. YentaNet matchmaker and Weiss' husband, Jonah Rank, sparked some debate on his Facebook page when he described YentaNet's slow dating philosophy.
"I am a bit put off by the 'Slow Dating,'" one Facebook user wrote. "I think there are plenty of arguments in favor of 'fast dating' even as a prelude to monogamy."
The service is conservative in other ways, as well. During a day-long training program for matchmakers, six speakers discussed the logistics of the service and the philosophy behind it.
Rank described the training to Fusion in an email, saying Weiss talked about "the protocols of how to conduct YentaNet intakes (what questions to ask, not to ask, how to ask) when interviewing match candidates — a process that can take a few hours." Dr. Bat Sheva Marcus, a sex therapist, spoke about sexual compatibility. Rebecca Kagedan, a clinical social worker and therapist, talked on applying attachment theory to matchmaking.
Other speakers, including Weiss, talked about demographics and Jewish marriage statistics in the U.S. and New York. Some members of the Jewish community find high rates of intermarriage alarming — in 2013, a Pew Study found that 44 percent of Jewish respondents said they were married to non-Jews, and that the figure jumped to 58 percent when only those who have been married since 2005 responded. That's a spike in intermarriage compared to previous years:
A fear of losing Jewish identity through intermarriage appears to be a driving force for YentaNet. In an About section for the training, we find:

"According to Jewish tradition, making three matches secures you a place in the World to Come. But the benefits of successfully pairing singles in our community are obvious even in this world. By connecting single Jews, you are ensuring the future of our people."
In other ways, however, the service is quite religiously radical.
It is open to Jews of all levels of observance and, significantly, sexual orientation. In the same Facebook post, Rank notes that "YentaNet conducts multiracial, LGBTQ/heterosexual-friendly, multiple-abilities-friendly, pluralistic Jewish matchmaking that is affordable."
And of course, demographic concerns may exist beyond proliferation of the Jewish people: Several Facebook comments by Rank allude to the fact that women are far outpacing men in terms of inquiries — an imbalance not lost on women dating in New York City. And Weiss' description of slow dating is one many casual Tinder users could find attractive: "By agreeing to 'slow dating,' a match candidate enters into a more commitment-oriented mindset and engages in whole-person dating, which gives the other match candidate both the time and space to introduce her/himself in a more natural way."
Rank said that a few days after he completed the training, he received at least five inquiries into the service and had scheduled one intake. Later, Rank wrote in a Facebook post that he's received a steady stream of interest, "certainly reaching the double digits." Weiss added in an email that she's "been in contact with easily hundreds of Jewish singles."
YentaNet is not alone in trying to bring traditional matchmaking into the 21st Century. Time recently profiled a service called Shabbatness, a singles meetup/ Friday night dinner hosted by New York City matchmaker Erin Davis. In Philadelphia, matchmaker Danielle Selber performs Jewish matchmaking as part of an organization called Tribe 12. In the UK, reform Rabbis have started a website focused on LGBTQ Jewish matchmaking.
We've come a long way since Fiddler.
Danielle Wiener-Bronner is a news reporter.