Writing college papers sucks. Getting accused of cheating on a paper that you've written sucks more. Getting accused of cheating because you used a single, completely legitimate word? That's some bullshit.
That, however, is exactly what happened to Tiffany Martínez, a student at Suffolk University, who says she was accused of plagiarism by a professor, simply because she used the word "hence."
"This morning, my professor handed me back a paper (a literature review) in front of my entire class and exclaimed 'this is not your language,'" Martínez wrote in a recent blog post entitled "Academia, Love Me Back." "On the top of the page they wrote in blue ink: 'Please go back and indicate where you cut and paste.'"

They assumed that the work I turned in was not my own. My professor did not ask me if it was my language, instead they immediately blamed me in front of peers. On the second page the professor circled the word "hence" and wrote in between the typed lines "This is not your word." The word "not" was underlined. Twice. My professor assumed someone like me would never use language like that.
Martínez, a self-described "first generation college student, first generation U.S. citizen, and aspiring professor," explained to BuzzFeed that she complained about the incident to the head of her sociology department, who "is very familiar with my work and my writing."
G/O Media may get a commission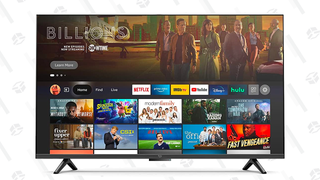 22% off
Amazon Fire TV - 50" Omni Series 4K - Early Access Deal
"He looked over my paper and had nothing but good things to say," she noted.
In the wake of the incident, Martínez's blogpost has generated a massive outpouring of support online, with thousands of people commenting on her essay, and over 100,000 people reportedly using the hashtag #hence on twitter since she published her account.
A petition with nearly two hundred signatures was also sent to Suffolk University in support of Martínez.
"The actual point of this email is to express our support for Ms. Martinez and to all students of similar caliber," the petition explained. "What we would tell her, had we the opportunity, is that the bigotry of one faculty member in no way diminishes her accomplishments or her prospects. We likewise believe that her determination has been strengthened and that this incident has only increased the likelihood that she will become a member of the professorate."
Martínez's experience has also drawn the attention of university administrators, who wrote in an email to students that "as an institution that was founded on the highest principles of inclusivity and respect, we take this and any such concern extremely seriously.'
Speaking with the Suffolk Journal, Martínez explained that her goal is "for people to just be more educated about this stuff, because I know a lot of people are already reading my stuff and are already confused on why I even have a problem with it."
"A lot of people don't have the experiences I have," she told the paper. "A lot of people don't really understand how hurtful it is when you tell a student who's been fighting their whole life to be validated that their scholarly work isn't theirs."
Despite the incident, Martínez has displayed a willingness not only to call out injustice as she sees it, but to fight to end it so others don't experience what she has.

"The entire field of academia is broken and erases the narratives of people like me," she wrote in her original blog post. "We all have work to do to fix the lack of diversity and understanding among marginalized communities. We all have work to do. Academia needs work."