An unidentified man broke into a local mosque in Tucson, AZ, and destroyed over 100 copies of the Qur'an during an overnight attack.
On Tuesday, The Islamic Center of Tucson posted a message to Facebook claiming that at around 3:30 AM on March 13, a sole suspect broke into their building, "ripped copies of the Qur'an and threw them around the prayer room before leaving."
In a separate Facebook post, the center shared a photo of the suspected vandal, pulled from security camera footage. The center also praised the local police department and urged anyone with information about the destruction to contact the authorities.
G/O Media may get a commission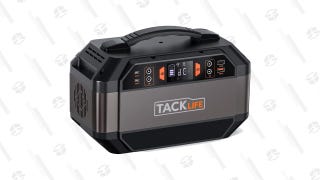 Tacklife Portable Solar Generator
"We pride ourselves on our open door policy," Islamic Center spokesperson Mahmoud Obagi told local station KVOA. "That people can come in and ask questions if they're angry, upset or concerned, and we have never steered against that. So we are upset that this individual stooped so low and vandalized and committed a crime, when he could have walked in during the day and asked any questions that he had."
While the center wrote on Facebook that the nature of the crime suggests the suspect's "sole intent" was to destroy its religious items, Tucson police seem unwilling to call the vandalism a hate crime just yet.
Citing the lack of Islamophobic graffiti or messages in this instance, spokesperson Kimberly Bey told Tucson.com that while the suspect "illegally entered the building… there's no indication that the incident had hate or bias to it."

"We won't be able to know anything until we find and talk to the man," she added.
In response to the attack, the Islamic Center has launched a crowdfunding effort to beef up its security system, including upgraded alarms, video surveillance, and lighting. They also plan to use the funds to repair the doors damaged by the suspect during the break in.
"The ICT has been a part of the Tucson community since the late 1980's," the group wrote on Facebook. "Since then, the Tucson community has been kind, welcoming, and supportive."