An immigration judge ruled Tuesday that a Michigan man who has lived in the U.S. for 18 years will not be deported. The ruling comes after a huge upswell of community support.
Yousef Ajin, who is 48 years old and a citizen of Jordan, lives in Ann Arbor, MI, is married, and has four children, including a son with special needs. He has a green card; his wife and their children are all U.S. citizens.
Ajin had been arrested and detained since Jan. 30 after a routine check-in with immigration officials.

"He was supposed to get his citizenship in 2019 and I used to say it was my graduation present because I graduate in 2019," Ajin's 15-year-old daughter Betoul explained in a video. "I don't know. Everything looked really really well, and then this just happened, and it all went downhill."
G/O Media may get a commission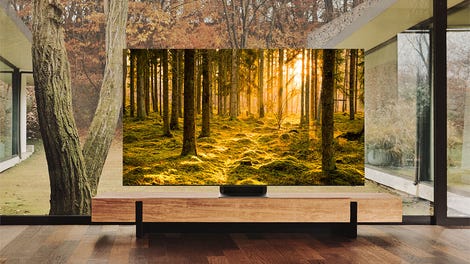 Up to 40% off
Samsung Smart TVs
MLive.com reported that Ajin had a felony on his record for "unlawful possession of a financial transaction device — another person's credit card" from June 2001, and a misdemeanor for shoplifting from 2003. A public affairs officer for ICE told MLife.com that an immigration judge issued an order for Ajin's removal in 2012.
Community members reached out to support Ajin and his family during his hearing Tuesday, and even rallied at the courthouse. They held signs that said things like "#FREEYOUSEF" and "FAMILIES DON'T HAVE BORDERS." Neighbors also wrote letters in support of the family.
"My brother is disabled … It's very important to him to have my dad around," Ajin's daughter explained. "He doesn't like my dad doing work, he just wants him to sit next to him and play with him. My brother has realized that my dad is gone even though he can't talk and we don't know he's thinking."
Judge Judge David Paruch granted Ajin a deportation waiver, meaning Ajin will be able to keep his green card and remain in the U.S. legally. Paruch said the court normally does not grant waivers like this, but Ajin's crimes were so long ago, and his presence was so crucial to their family, that he was making an exception. He encouraged Ajin to stay out of court.
"I hope I never see you again," Paruch said to Ajin in court, Mlive.com reports.
The Department of Justice told MLive.com it will not be challenging the ruling.

"Mr. Ajin greatly appreciates the community's support today and all the various letters of support," attorney Christopher Vreeland told reporters after the hearing on behalf of Ajin. "We're very pleased with the outcome and Yousef is very grateful for the opportunity to resume his life in Ann Arbor where he's lived for the past 18 years as a legal permanent resident of the United States."